What Kind of Medical Professionals Can Issue a Recommendation for a Disabled Parking Permit?
If you have a disability and think you might benefit from having a handicap parking permit, you probably have questions about how to obtain one. Your first question might be what type of doctor you would need to help you fill out the appropriate forms from the Department of Motor Vehicles (DMV) in your state. Here's a breakdown of what you need to know on your quest for a disabled parking permit.
There are a variety of medical professionals who can help.
You don't need a specific type of medical professional or an MD to help you complete your DMV medical certification form. The professional can be a licensed physician, surgeon, chiropractor, optometrist, physician assistant, nurse practitioner, or certified nurse. As long as the person has evaluated your symptoms and determined that you are disabled and could benefit from a disabled parking permit, they can assist you in completing your application. This means that you can get medical certification from professionals other than your family doctor.
A number of different medical conditions can qualify you.
There are many medical conditions that the DMV considers disabilities. A common qualifier for handicap parking placards is a lack of mobility. A limited or complete lack of mobility can be caused by a number of different things, including obesity, asthma, or serious injury. Many states determine lack of mobility as a disability if a person is unable to walk a short distance without stopping to rest or is unable to walk without assistance (like with a wheelchair, walker, or cane). Some states determine a short distance to be 50 feet, while others say a short distance can be as much as 200 feet. The medical professional that evaluates you can help determine if your mobility qualifies as a disability. Other qualifying conditions include limited or no use of one or both of your arms, use of a prosthesis for any limb, and vision problems. There are a whole host of other medical issues that can qualify you for a disabled parking permit, such as a cardiac condition, a lung or pulmonary disorder, or an allergy or sensitivity to the sun.
You can get evaluated in an online process.
For people who don't have a trusted medical professional in their life, it can be easier to complete the medical certification online. Additionally, many people with disabilities find it difficult or impossible to get around – which makes traveling to a doctor's office extremely challenging. If this is something you struggle with, you should consider getting your medical certification online by using Dr. Handicap's services. This telemedicine approach means you don't ever have to leave the comfort of your home to get your handicap parking application taken care of. Dr. Handicap can connect you to a licensed medical professional in your state right from their website.
The professional will look over your information (including your medical history and symptoms) and then conduct an online video chat with you to determine if your disability qualifies you for a handicap parking permit. The best part is that Dr. Handicap is completely HIPAA (Health Insurance Portability and Accountability Act) compliant, so you can rest assured your personal information is always kept private. You also only need to pay a one-time flat rate for the consultation, and Dr. Handicap offers a 100% money-back guarantee if the DMV denies your application for some reason. They even send the completed DMV forms by email, so you don't have to wait a long time to get them in the mail. Taking care of all of these steps online can save you a lot of time and effort, which can be really valuable for someone with a disability.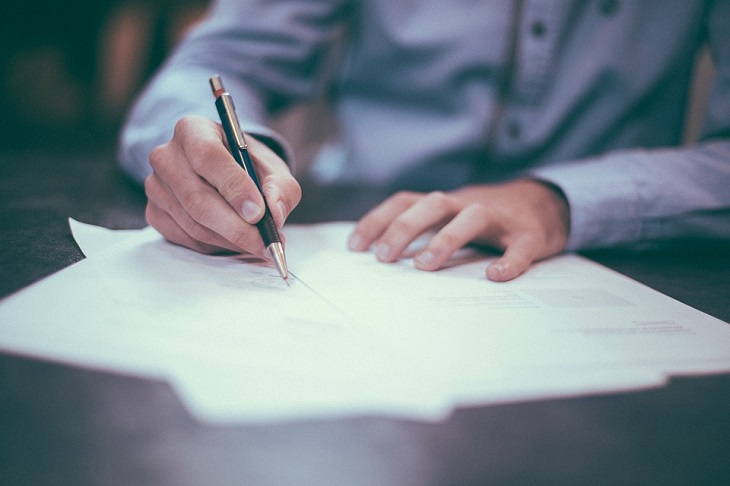 You can fill out a paper application.
If you don't want to complete the process online, you can also go through a traditional paper process. After you've been evaluated by a medical professional, you can begin the process of applying for a disabled parking permit by filling out an Application for Disabled Person Placard or Plates from your local DMV. This form is available online or can be picked up in person at the DMV. Your medical professional will fill out the section called Doctor's Certification, attesting to your specific disability, and then they'll add their signature to the application. From there, you can mail it into the DMV or drop it off in person. Permanent handicap parking placards are free, and a temporary placard will cost you about $6. Your disabled parking permit should arrive in the mail several weeks after you've submitted your application.
As long as you've connected with a medical professional (whether that's in person or online), you can successfully complete your application for a handicap parking permit. Once you have your placard, remember to follow all the regulations (including not lending it out to friends or family!), and you'll quickly be able to reap the benefits of having a disabled parking permit.