A Guide To Disabled Parking In Tennessee
In Tennessee, disabled drivers are eligible for disabled parking permits that allow them to park in specially designated parking spots. But how do you get a disabled parking permit in Tennessee and put it to good use? Here's what you need to know about disabled parking in Tennessee – how you qualify for it, get a permit for it, and use it throughout this great state.
Who Is Eligible For A Disabled Parking Permit In Tennessee?
In Tennessee, you are eligible for a disabled parking placard if you:
Have had a foot, arm, leg, or hand amputated
Have a condition rending you disabled that is certified by a physician
Use a wheelchair, crutches, brace, or some other assistive device
Suffer from an illness that disallows you from walking 200 feet without stopping
Have vision worse than 20/200
Talk to your physician about whether you have a condition that qualifies you for a Tennessee handicap parking permit.
How To Get A Disabled Parking Permit In Tennessee
There are two types of permits disabled drivers or passengers can use in Tennessee. You can get a temporary or permanent placard to hang on your rearview mirror, or you can get a license plate if you are permanently disabled or hearing impaired. Disabled veterans also have special disability plates available to them.
The Tennessee Department of Motor Vehicles issue all disabled placards and plates, or you can visit your local county clerk's office. Form RV-F1310301 must be completed by you and your treating physician in order to apply for a Tennessee disabled parking permit or plates. You can obtain this form online or in person.
Permanent disability placards are valid for a period of two years. A disability license plate is valid for a period of one year and a temporary placard for six months, allowing only one renewal after that.
How Much Does A Tennessee Disability Parking Permit Cost?
If you have an illness or disability that qualifies as a temporary one, meaning you need a disability parking permit for six months or less, then you must pay a $10 fee to obtain one. Permanent placards cost $21.50, as do special disability plates (along with your vehicle's normal registration fees).
If your Tennessee disabled parking permit is lost, damaged, or stolen, then you must reapply for it and pay a fee of $2.00 for a replacement.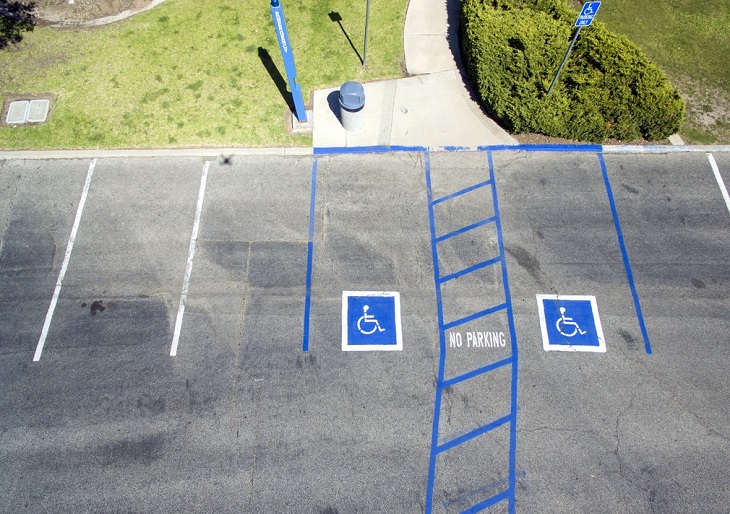 Where You Can Park with a Disabled Parking Permit in Tennessee
The state law in Tennessee allows those with disability parking plates and placards to park in all counties and cities for free. You may not be charged a fee for parking in a metered space, in municipal parking lots, or on the street as long as you have a disabled parking permit displayed on your car or disabled license plates on your vehicle. Don't forget that your disabled parking permit or plate is only good for a car you are traveling in as a passenger or driving yourself. If you let someone borrow your disability parking permit or plate, you can have it taken away.
For Disabled Visitors in Tennessee
If you are planning to travel to the Volunteer State and you have a disability parking permit or plate, you don't need a special plate to take advantage of disabled parking in Tennessee. The state recognizes other state's disability placards or plates and grants you the same rights and privileges under the law.
Get Your Tennessee Disabled Parking Permit Today!
If you need assistance with your disabled parking permit in Tennessee, then Dr. Handicap is happy to help walk you through the process and get you out on the road!
Featured image by Joshua Ness on Unsplash