Hawaii has a modern handicap parking infrastructure that helps to make the lives of local and visiting permit-holders easier. All of Hawaii's urban areas, rural areas, and attractions are well stocked with disabled parking spaces.
Applying for a disabled parking permit from the State of Hawaii is a simple process. Applications are processed quickly, and there are several types of disabled permits. Each permit is tailored to a specific set of needs and circumstances.
People who are new to disabled parking in Hawaii, such as newly disabled residents or first-time visitors to the state, tend to have several questions about disabled parking in the Aloha State.
What are the Hawaii handicap parking rules and regulations? Is handicap parking free in Hawaii? Can you park free at a meter with a handicap placard in Hawaii? Can I use my handicap placard in Hawaii? How do I get a handicap placard in Hawaii? Today, we will answer all of these questions and more.
Hawaii Handicap Parking Rules And Regulations
Handicap parking is a federal law. Disabled parking programs in all states must adhere to guidelines set out in the Americans with Disabilities Act (ADA), but each state decides the specifics of its own handicap parking program. So, in practice, while all states adhere to the ADA, each state has its own unique version of a disabled parking program.
Hawaii, like all other US states, has its own set of handicap parking rules and regulations. These adhere to ADA guidelines but take Hawaii's unique circumstances into consideration.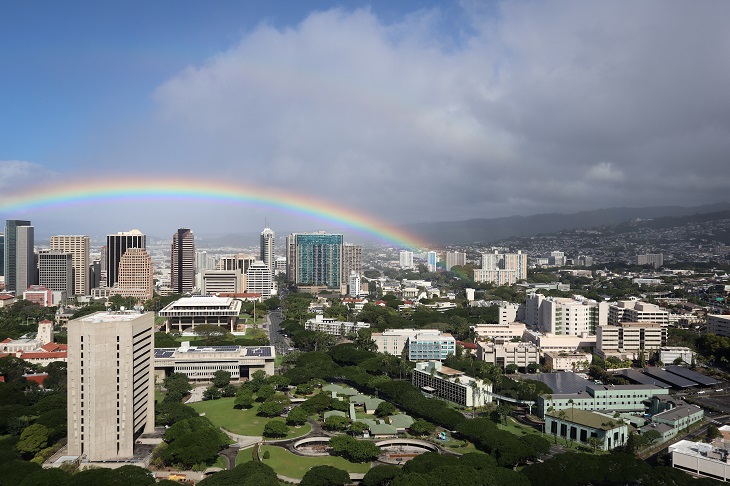 Is Handicap Parking Free In Hawaii?
It is free to park in designated disabled parking spaces in Hawaii. Designated disabled parking spaces are clearly signposted and marked with the International Symbol of Access. However, parking in metered, on-street spaces in Hawaii is not free.
Can You Park Free At A Meter With A Handicap Placard In Hawaii?
Parking in a metered space in Hawaii is no longer free for disabled permit holders. On July 1st, 2021, the law changed, and disabled permit holders are now required to pay to park in metered spaces in the state. However, certain people will qualify for a Disabled Paid Parking Exemption Permit (DPPEP).
A DPPEP will entitle its holder to park in a metered space for free for up to 2.5 hours. To qualify for a DPPEP, a person must:
Be unable to reach above their head to a height of 42 inches from the ground due to a lack of finger, hand, or upper extremity strength or mobility; or
Be unable to approach a parking meter due to use of a wheelchair or other mobility device; or
Be unable to manage, manipulate, and insert coins, bills, or cards in a parking meter or pay station due to a lack of fine motor control in both hands.
To apply for a DPPEP, you will need to submit an application form to:
DCAB
P.O. Box 3377
Honolulu
HI 96801
You can renew an expired DPPEP, or replace a lost or damaged permit, by submitting a new application form to the same address.
Can I Use My Handicap Placard In Hawaii?
If you are visiting Hawaii from another US state, you can use your disabled parking permit to avail of Hawaii handicap parking infrastructure. Hawaii recognizes disabled parking permits from all other US states and also from several other countries, including:
Canada
Mexico
Great Britain
EU
Australia
New Zealand
Japan
How Do I Get A Handicap Placard In Hawaii?
To apply for a Hawaii handicap parking permit, visit the Dr. Handicap online clinic and have a consultation with a state-licensed physician.
Once the physician verifies your suitability for handicap parking, they will email you a signed copy of the Hawaii disabled parking permit application form. You then complete the form and submit it to the Hawaii Department of Health. You can submit your application in person at any Satellite City Hall or by mail to:
Motor Vehicle Licensing & Permits
ATTN: Special Services Section
P.O. Box 30310
Honolulu, HI 96820
Are Hawaii Disabled Parking Permits Free?
The fee for a Hawaii temporary disabled permit in Hawaii is $12. Permanent Hawaii disabled permits are free.