4 Driving Safety Tips For Those With Limited Mobility
Driving is a privilege, because operating heavy machinery like a car can be dangerous. This is especially true when other drivers fail to drive safely, follow traffic laws, or practice angry or aggressive driving. Those who drive on a routine basis know there are some drivers out there who seem to disregard the safety of others completely – but if everyone on the road is to stay safe, everyone needs to practice safe driving.
For people with limited mobility, driving isn't always as easy as it is for those with full mobility. However, the main difference between driving with limited mobility and full mobility is the need to make a few changes to either the vehicle you drive or the way you drive. This can be done seamlessly if you know what tips to follow. So read on for our top driving safety tips for those with limited mobility.
What does limited mobility mean?
Limited mobility can be caused by a lot of different things, from diseases to accidents to congenital disorders. When a person is unable to use one or more of their extremities, such as the arms and legs, or does not have adequate strength to walk, lift, or hold onto certain objects, it is referred to as limited mobility.
Those who require the use of a wheelchair, a walker, or crutches are all examples of people with limited mobility. Limited mobility can be permanent, as is the case when someone suffers from conditions such as cerebral palsy, a spinal cord injury, or paralysis. It can also be considered temporary in the event that someone breaks a bone in the arm or leg. Limited mobility does count as a disability, but it doesn't mean that a person has to give up the option to drive a vehicle.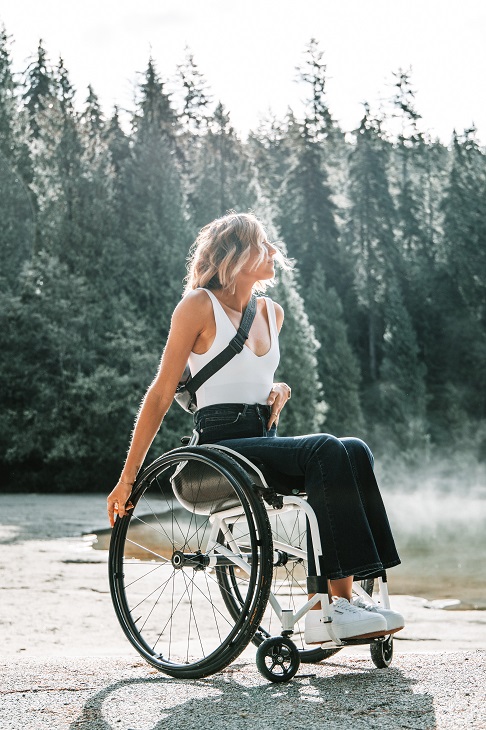 Can you drive if your legs are paralyzed?
Driving usually requires the use of one or both feet. For this reason, you may assume that if you don't have mobility in your legs, you cannot drive. But people who are paralyzed in the legs can generally drive with no issue as long as certain modifications are made to their vehicle and they relearn how to drive using different tools.
A vehicle that is modified to allow a person with paralyzed legs to drive will include specific adaptations such as hand controls for braking and accelerating. Hand controls are extremely helpful and just as safe as foot controls. Other types of modifications may include power assist devices that can help with steering, touch ignition and gear shifts, adjustable driver's seats, and automatic door openers.
Tips for driving with limited mobility
There are regular tips that all drivers should follow when it comes to driving safe and protecting yourself, passengers, and pedestrians while you're out on the road. For example, observing the speed limit and practicing defensive driving techniques are great safety tips that everyone should be aware of and practicing diligently every time they get behind the wheel of their car.
Other general driving safety tips include:
Avoiding tailgating or riding too closely to the back of someone's car
Always checking your blind spots
Never driving while angry and avoiding anger on the road
Always using your turn signals
Knowing the rules of a four-way stop
Avoiding the passing lane unless you are actually passing
These general rules are taught to every driver prior to getting their license, but can often be forgotten or unused as people build their own driving habits. Be sure to keep them all front of mind whenever you're on the road.
When driving with limited mobility, there are some further specific driving tips that can help you stay safe while on the road.
1. Plan your route
Make sure you know not only where you're going, but the route you need to take to get there. You won't want to take your attention off the road to look at a map or directions, nor would it be ideal to have to stop or get out of your vehicle to get directions. If you're prepared for your drive, you'll have less distractions or detours when on the road.
2. Avoid unsafe driving conditions
This is a vital tip for driving safely with limited mobility. Unsafe driving conditions (such as severe weather) will complicate your experience behind the wheel, which could put your safety at risk.
3. Seek out additional driver training
For drivers with limited mobility, there's also the option to receive additional training from an expert who is familiar with teaching people with the same mobility issue. This will help you understand the challenges you face on the road and prepare you to handle them better.
4. Minimize distractions
Finally, minimizing distractions will make your driving experience that much more seamless. Because driving relies heavily on visual and mental skills, you won't want to be distracted, especially if you're just getting used to driving with limited mobility.
Featured image by Orkun Azap on Unsplash