Is Handicap Parking A Federal Law?
Handicap parking laws exist to make life easier for people with a wide range of disabilities and mobility issues. Without a strictly implemented set of rules, the disabled parking program couldn't be of optimal service to its users.
The handicap parking program contains lots of legally binding rules and regulations. These important directives deal with parking space dimensions and locations, signage, numbers, qualifying conditions, how to apply for a disabled parking permit, and what types of disabled permits are available.
Is Handicap Parking A Federal Law?
A federal law is a law put in place by the federal government and enforced by federal and state authorities. Federal laws apply in all 50 states.
The handicap parking program includes several legally binding rules and regulations. Many of the most important details of the handicap parking program are federal laws; however, some details of each state's specific handicap parking program are state laws that apply locally but not across all states.
What Federal Law Deals With Handicap Parking?
The federal law that deals with the handicap parking program is the Americans with Disabilities Act (ADA).
What Is ADA Parking?
ADA parking refers to disabled parking that adheres to Americans with Disabilities Act rules and regulations.
What Makes A Legal Handicap Spot?
A legal handicap spot needs to be properly signposted with a sign that is mounted at least five feet above the ground. A legal handicap parking spot also needs to be a minimum of eight feet wide, with an aisle space adjacent that is also a minimum of five feet wide. A legal handicap parking spot for a van must be at least 11 feet wide, and there must be an accessible path from the aisle to an accessible entrance of the building it serves.
ADA Parking Space Requirements 2021
The ADA parking space requirements in 2021 are:
Handicap spaces can only be used by handicap parking permit holders
Handicap spaces must be properly signposted
Handicap spaces must be appropriately sized
Handicap spaces must exist in legally dictated numbers in parking lots and on streets
Handicap spaces must be located on the most accessible routes to the buildings and amenities they serve
Who Enforces Handicap Spots?
Handicap spots are enforced by local authorities, usually police forces, parking authorities, and disabled parking authorities.
What Handicap Parking Laws Are Decided By Individual States?
Several handicap parking laws are decided and implemented by individual states and only apply in certain states.
States Decide Specific Handicap Parking Qualifying Conditions
Each state decides what the legal qualifying conditions for handicap parking will be in that state. The following list of qualifying conditions applies in a large majority of states; however, some states have other qualifying conditions as well as these:
An inability to walk 200 feet without stopping to rest
An inability to walk without an assistive device
Legal blindness
Lung disease
Portable oxygen tank usage
A heart condition classified Class III or IV by the American Heart Association
A neurological, arthritic, or orthopedic condition that curtails mobility
States Have Different Types Of Handicap Parking Permits Available
Each state decides what types of disabled parking permits to offer. The following are the most commonly offered types of disabled permit:
Permanent placard
Temporary placard
Disabled Veterans license plates
Organizational placards
Each state has its own laws regarding when disabled parking permits expire and how to renew them.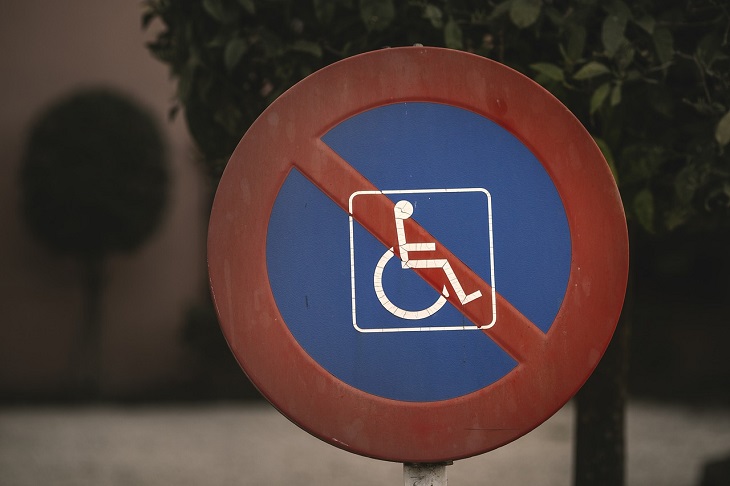 States Allow Different Medical Professionals To Verify Handicap Parking Applications
Each state decides which types of medical professionals can verify a person's eligibility for disabled parking and sign a disabled parking permit application form.
All States Allow Handicap Parking Permit Reciprocity
Every American state recognizes disabled parking permits issued by all other states. Due to the fact that each state follows federal handicap parking laws but also has its own unique state laws, it is important to research the handicap parking laws in any state you are intending to visit.
How Do You Get A Handicap Parking Permit In 2021?
The best way to get a handicap parking permit in 2021 is to visit the Dr. Handicap online clinic and set up a telemedicine consultation with a licensed medical professional. Once your disability has been verified, the medical professional will complete, sign, and email you a disabled parking application form for you to finish and submit to your local DMV.
Featured image by Aaron Burden on Unsplash