What Are The Blue Cross-hatched Stripes Next To Disabled Parking Spots?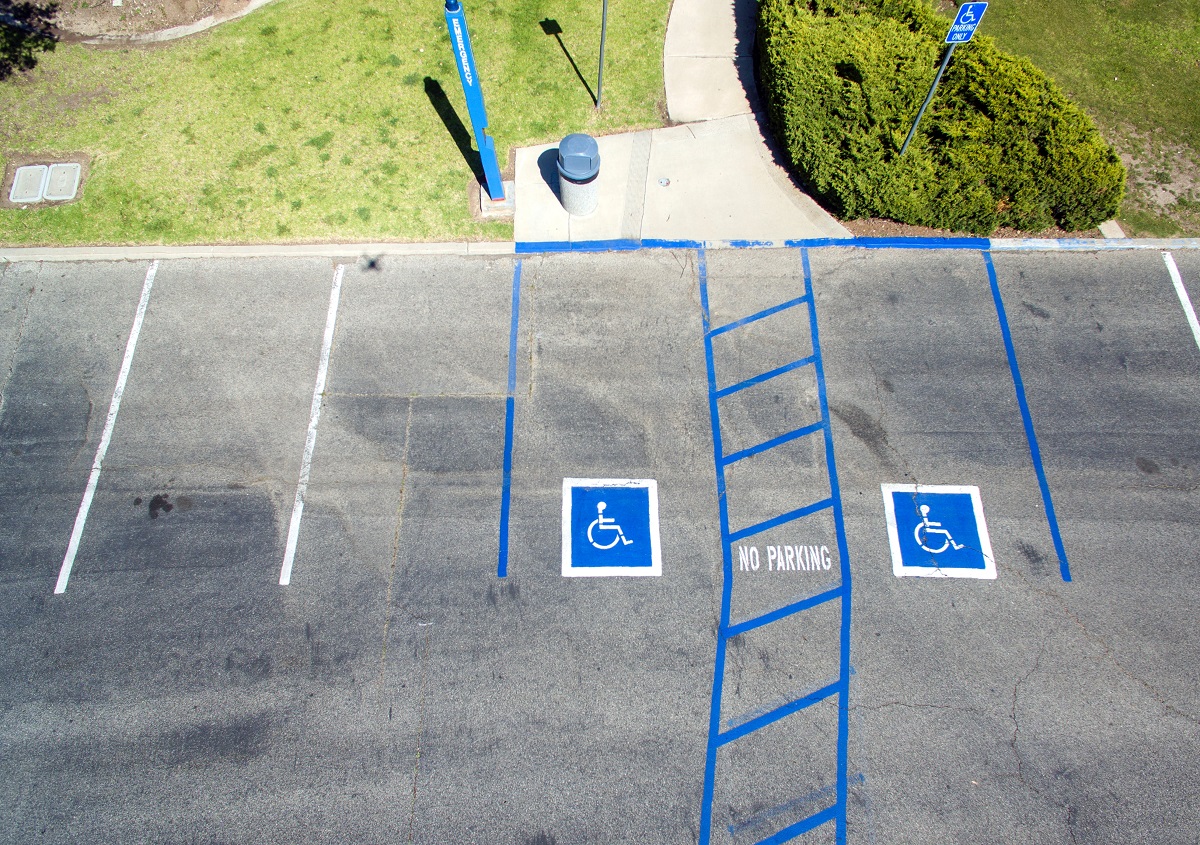 Once you've got your disabled parking permit in hand, you'll want to make sure you're always using it correctly. There are several regulations in place to make sure everyone is using designated handicap parking places appropriately, so it can be helpful to have a little background information on these spots. If you've ever wondered, "What do the blue cross-hatched stripes next to disabled parking spots mean?", you've come to the right place! Read on for the answer to this question and more.
What is a disabled parking permit and how do you apply for one?
If you don't happen to have a handicap parking permit already, you should know that it's fairly easy to get one. All you have to do is get evaluated by a licensed physician in your state. They'll verify that you have a physical condition that impacts your mobility and makes it difficult for you to get around. They can help you complete the medical certification portion of your permit application.
After you fill out the rest of your application and submit it, you'll receive either a temporary or permanent placard (depending on the type of disability you have). This permit allows you to park in designated handicap parking spaces that give you closer and more convenient access to the places you frequent. It doesn't matter whether you're the driver or just a passenger; the permit is designed to give you improved accessibility whenever you leave your home.
What are the qualifying conditions for disabled parking?
In order to qualify, you must have a medical condition that your individual state recognizes as a disability. This can cover a wide range of conditions, including but not limited to:
The inability to walk more than 200 feet without needing to stop and rest
Needing to rely on an assistive device (such as a wheelchair, brace, crutch, cane, or another person)
Loss of mobility (due to cardiac, lung, arthritic, neurological, etc. conditions)
Problems with your vision
Use of a prosthesis or loss of a limb
If you have one of these conditions and could benefit from accessing closer parking places, visit your doctor to see if you will qualify for a handicap permit. If you don't have a doctor who can help, Dr. Handicap can connect you virtually with a medical professional in your state to help you with your permit application. Make sure to look up the specific application process in your state, since it varies from state to state – that way you'll know exactly which steps to take to successfully complete your entire application.
What does a disabled parking spot look like?
There are three types of handicap parking places in the U.S.: standard, one-side entry wheelchair van, and two-side entry wheelchair van. There aren't typically specific regulations about which spots you need to use if you have a handicap parking permit, but generally, you should only use the spots that you need to use (so you can leave the other ones for the people who need them).
Standard spaces are the most commonly used spots in parking lots. They're usually marked with the blue or white handicap symbol of a wheelchair, with either a stencil on the parking space or a clear sign in front of it. These spots will work for sedans and SUVs, but are not big enough to accommodate side-entry wheelchair vans. These larger vehicles can park in bigger van-specific parking spaces that are typically marked as "van accessible".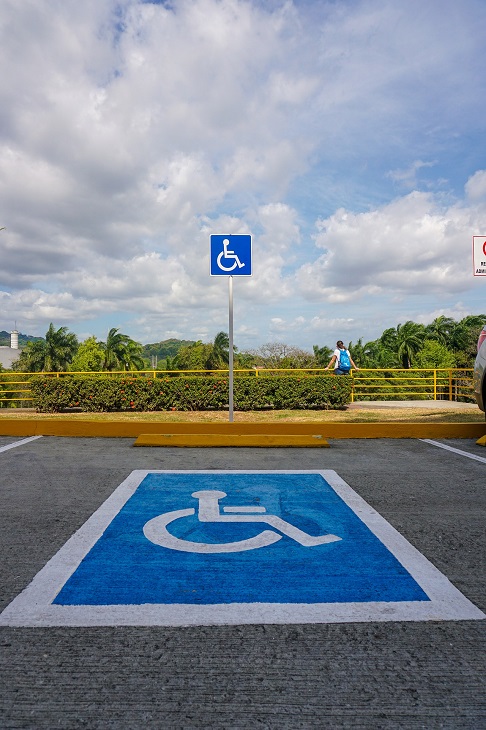 What are the blue cross-hatched stripes next to disabled parking spots?
These blue or white cross-hatched stripes are located next to the van accessible spots. They provide a 96-inch-wide area on either one or both sides of the spot so that a person can comfortably enter or exit the vehicle in a wheelchair. The spots are wider to provide people with more space to get around, as well as to allow them to use a wheelchair ramp or lift if they need to.
If you're wondering, "Can I park in the blue cross-hatched area of a disabled parking spot?" the answer is no! The stripes or cross-hatched sections are never considered a legal parking spot. They are there purely to mark out extra space for people with mobility issues to get in and out of their vehicles.
Can I park there if I'm a permit holder and there are no other free disabled parking spots?
Although it might feel tempting to park in the cross-hatched section if there are no other available handicap parking places, you are still not allowed to park there. However, it's fine for you to park in the van-accessible spots if there are no other spots available. Just try to stick to regular handicap spots if you don't need wheelchair access so that those spaces will be available to the vans that need them. Basically, as long as you steer clear of parking in cross-hatched or striped areas, you should be fine. Here's some additional info on using your disabled parking permit in an emergency.
If you find yourself frequenting businesses or retail locations that don't have enough handicap parking places, consider contacting those places directly, or getting in touch with your local city government to see if more spots can be designated for disabled permit holders. They might be able to add more spots – it doesn't hurt to ask! Just make sure you're remembering to follow all the rules that come along with having a handicap parking permit, and you'll find that you can use your placard with ease.
Featured image by Robert Ruggiero on Unsplash