Should There Be An Increase In The Amount Of Designated Disabled Parking Spaces?
If you've been living with a disability, you're probably very conscious of whether disabled parking spaces are available at the locations you frequent. Some parking lots might have an appropriate amount of disabled parking places that are always available to you when you need it, while others might have an inadequate amount of spaces that are always filled. So, the question is: should there be an increase in how many handicap parking spaces there are?
There are many regulations set in place by the Americans with Disabilities Act (ADA) to ensure that disabled individuals have access to convenient handicap parking spaces. These spaces must connect to the shortest accessible route to the building or facility's entrance. If the parking lot serves multiple buildings or entrances, disabled parking places must be dispersed around the lot, so that people have a variety of parking options. For example, a shopping center with many stores needs to have separate spaces throughout the parking facility, so that people with disabilities can park closest to where they want to go.
Accessible parking spaces are designed to be eight feet wide, with van-accessible places at 11 feet wide. There must be access aisles for either type of space measuring five feet wide. These aisles are designed to provide room for people to utilize vehicle-mounted wheelchair lifts or to unload mobility devices (such as wheelchairs, walkers, etc.). Access aisles are marked (typically with hatch marks) to prevent other vehicles from parking too close. The ADA requires these spaces and aisles to be completely smooth and level, so that people with disabilities and limited mobility are able to easily walk around and load or unload their mobility devices without any obstacles.
There are ADA regulations that exist to guide business owners and retail locations on how many disabled parking spaces they are required to have. This is the breakdown:
So, for disabled drivers or passengers, is this enough? Here are some things to consider:
There should be more handicap parking spaces in places where there are more people with disabilities.
There's a higher likelihood of there being more individuals with disabilities in parking lots of facilities like hospitals, medical clinics, and doctor's offices. While hospital outpatient facilities are required to have 10% accessible spaces in their parking lots, there still might not be enough for everyone to have a close parking place. Additionally, rehabilitation facilities that treat mobility-related conditions or outpatient physical therapy offices are required to have 20% of their parking places as designated handicap parking spaces.
Even this is likely not enough to cover all patients with disabilities who need an accessible space. Think about it this way: if a physical therapy facility has 50 parking places in their lot, only two spaces would be specifically designated as handicap parking spaces. Locations that are aware that they cater to a higher population of individuals with disabilities should consider adding more disabled parking spaces to their parking lot.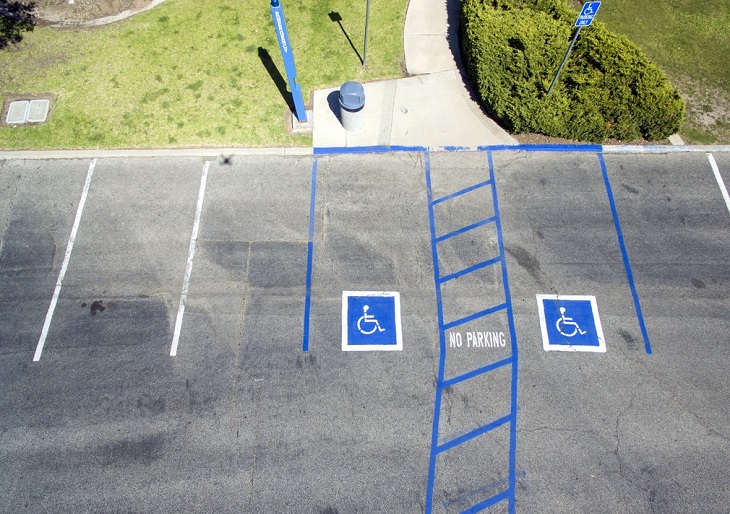 More medical conditions are being labeled disabilities.
A growing number of individuals with "hidden disabilities" are being granted disability status. These conditions can cover a range of issues – everything from autism and developmental delays to emotional impairments and memory issues. If more conditions (both physical and mental) like these are considered disabilities, more people will be awarded disabled parking placards – which means there will be a greater need for handicap parking spaces. As the definition of disability broadens, designated disabled parking places will be further utilized, and public places and retail locations will need to make sure they're offering accessible options for all of their customers or clients.
Some businesses might want to consider adding more places.
If business owners are finding that their handicap parking spaces are often taken up, and there aren't enough spaces for every person who needs one, they might want to consider adding additional disabled parking spaces to their parking lots. If you spend time at a specific location and are constantly struggling to find accessible spaces, consider talking to the manager or head of the company about this issue. It's possible they might not have realized there was an accessibility issue, and they might be able to work to improve or solve the problem. You can also alert the DMV or local police if you think there are disabled parking places that are being used illegally by non-disabled drivers.
There's a possibility that all individuals might need a disabled parking placard at some point.
It's important that there be equity for all individuals with disabilities. Even if a person doesn't currently have a disability, it's possible that they might have one in the future (from illness, injury, etc.). Despite not necessarily needing a permit now, everyone at some point in their life might need to utilize handicap parking places – so they should be available for everyone to use when they need them.
Overall, there should be enough designated disabled parking spaces available to you when you head out into the world. But if there aren't, this lack of accessibility can prevent you from living your best life. Without enough accessible parking places, you can end up being limited to where you can go, or your outings can become much more stressful and taxing on your body. An increase in the amount of disabled parking spaces could mean greater independence for individuals with disabilities and a fairer, more equitable situation for everyone.