A Guide To Disabled Parking In Michigan
Michigan is the Great Lake State. For those with a short- or long-term disability that creates a challenge for your mobility, Michigan provides disabled parking permits. But what are the guidelines for disabled parking in Michigan? How do you know if you qualify for a Michigan handicap parking permit? And what can you do with it once you have it? These questions are easy to answer. Here's all you need to know about how to get a disabled parking permit in Michigan.
Do I Qualify for a Michigan Disabled Parking Permit?
Anyone with a qualifying condition can get a disabled parking permit in Michigan. Qualifying disabilities include:
Orthopedic, neurological, or arthritic conditions that limit your ability to walk
Lung disease that causes you to rely on oxygen sources other than air
Cardiovascular conditions
The inability to walk 200 feet without the need to stop and rest
The use of a mobility aid such as a brace, walker, crutch, or wheelchair
Talk to your doctor if you suspect you have a condition that may qualify you for a Michigan handicap parking permit.
How to Get a Disabled Parking Permit in Michigan
In the state of Michigan, the Department of State runs the disabled parking placard program. You can obtain a form either directly from your local Department of State office or online. You must complete part one of the application and a licensed optometrist, physician's assistant, nurse practitioner, physician, or chiropractor must complete part two of the application. If you need a special designation for free parking, then a medical professional will also need to fill out a third part of the form. Once all parts of the form are complete, you can turn in the application to the Department of State.
It's important to note that every Michigan disabled parking permit is provided for free. You can get a permanent disability placard that is valid for up to four years, expiring on your birthday, or you can get a temporary placard issued for between one and six months. Temporary placards may be issued if your disability and impaired mobility aren't expected to be permanent, such as when you're recovering from surgery.
How to Renew a Michigan Disabled Parking Permit
If you have a permanent disability placard, then you can renew it anywhere between six months and 45 days of expiration. You do not need to re-certify your disability and you won't be expected to pay a renewal fee.
If you have a temporary disability parking placard, then you cannot renew it. If you still need a placard after it is set to expire due to continuing mobility issues, you must fill out a new application with certification by a medical professional and resubmit it to the Department of State.
If your Michigan handicap parking permit is lost, stolen, or accidentally destroyed, you will be expected to pay a replacement fee of $10, as well as provide identification.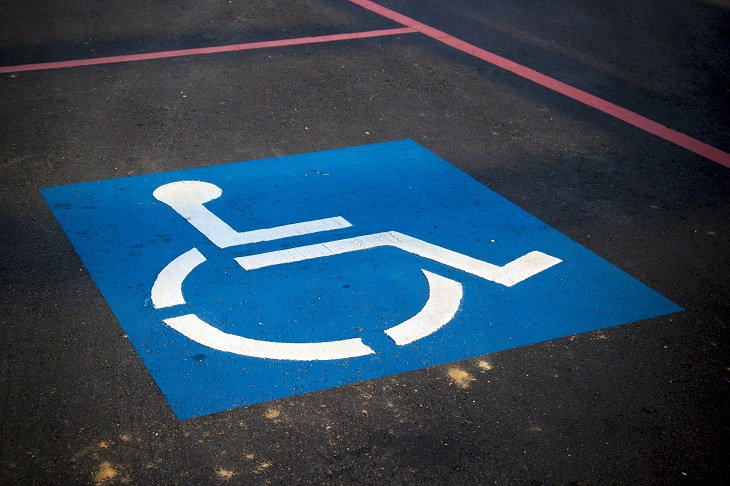 Using Your Michigan Disabled Parking Permit
Once you have a disability parking placard in your possession, you have to know how to use it! The first thing you should note is how to display it. Hang it from the rearview mirror of your car so it is visible when parking. This allows anyone checking to clearly see your placard through the window when you're in a handicap parking spot.
Also remember that you can use your permit for disabled parking in Michigan to park in any space that has the international access symbol. If your doctor filled out part three of the application, then you may also receive a special yellow sticker on your permit that allows for you to park at a parking meter free of charge – but only if you have the special designation.
If you have questions about where to park in your neighborhood or when at work, then inquire with your local authorities about where disabled parking in Michigan is located and what is allowed.
Michigan is a great state to traverse with or without a disabled parking permit, but luckily, Michigan makes it easy for those with disabilities to enjoy all the state has to offer.