A Guide to Disabled Parking in Maryland
Trying to determine if you should get a disabled parking permit? If you live in the Old Line State and have a disability, you could qualify for one. Having a handicap placard or license plate means you can get more convenient and accessible parking wherever you go, allowing you to have an easier time when you're out and about in the world. Here's a breakdown of everything you need to know about disabled parking in Maryland.
Qualifying Disabilities
There are a number of conditions that qualify as disabilities according to the Maryland Department of Transportation and Motor Vehicle Administration (MVA). They include:
A permanent disability that impacts the mobility of the applicant (which includes conditions that would make a person subject to risk of injury without a handicap placard)
Being unable to walk more than 200 feet without stopping to rest
Being unable to walk without the use of an assistance device (such as a brace, cane, crutch, prosthetic device, or another person)
Requiring a wheelchair to get around
Having lost an arm, hand, foot, or leg
Experiencing paralysis or the lost use of an arm, hand, foot, or leg
Having lung disease or respiratory issues (to an extent that forced expiratory volume for one second – when measured by spirometry – is less than one liter or arterial oxygen tension [pO2] is less than 60 mm/hg on room air at rest)
Having cardiovascular disease (classified in severity as Class III or Class IV set by the standards of the American Heart Association)
Having a permanent impairment of both eyes so that the central vision acuity is 20/200 or less in the better eye with corrective glasses, or there is a field defect in the peripheral field to an extent that the widest diameter of visual field subtends an angular distance no greater than 20 degrees in the better eye
If you suffer from a temporary disability (like an injury), you can apply for a temporary placard. This means that your disability is not permanent but that your mobility is impacted for at least three weeks and that you could still benefit from receiving a disabled parking permit. Please note that it's possible not to have a disability specifically listed above, but to still face hardship without obtaining a handicap placard. If this is the case, you can speak with someone at the MVA or consult with your doctor to see if you might still qualify.
The Medical Certification
Your first step in filling out the application is to see a medical professional who can verify that you have a qualifying disability. The following licensed medical professionals are considered appropriate for this process:
Physician
Physician assistant
Nurse practitioner
Chiropractor
Physical therapist
Podiatrist
Optometrist (may only certify condition regarding vision)
If you have lost a limb (hand, arm, foot, or leg), you can skip the visit with the medical professional and simply appear in person with proper identification at the MVA. Plus, the above listed medical professionals can also help out if your disability is temporary – these temporary placards are valid for up to six months. You can also use the option of connecting virtually with a licensed medical professional in your state through Dr. Handicap. This can be a great choice if you don't have a doctor, or if it's hard for you to make it to a doctor's office.
The Application Process
To get started, request an application for Maryland Parking Placards/License Plates for Individuals with a Disability (form VR-210). You can do this by:
Calling the MVA's Customer Service Center at 410-768-7000
Calling the MVA's Fax on Demand System at 410-424-3050 and requesting Catalogue #15
Calling the MVA's Customer Service Center from out of state at 1-301-729-4550
Calling TTY for the hearing impaired at 1-800-492-4575
Visiting any MVA branch office (including full-service branches and express offices)
Downloading it from the MVA website
Once you have your application, complete all of the sections on the form. You'll need to give some personal info (such as address, date of birth, driver's license number, etc.) and identify whether you're applying for a placard or a license plate. Your medical professional fills out their portion (called the Disability Certification Information section) and signs it, and then you sign and date as well. There is no fee for a handicap placard. If you're interested in getting a disabled license plate, you will have to pay a $20 fee. For plates, you'll also have to complete Section D of the application, which includes your vehicle's title number.
After you've completed your application, mail your form (along with a check if you're getting a disabled license plate) to:
MVA Disability Unit, Room 202
6601 Ritchie Highway
Glen Burnie, Maryland 21062
You can also visit your local MVA office (except the Oakland location) to turn in your application in person. Then pick up your placard in person at these offices, or request to have it mailed to you.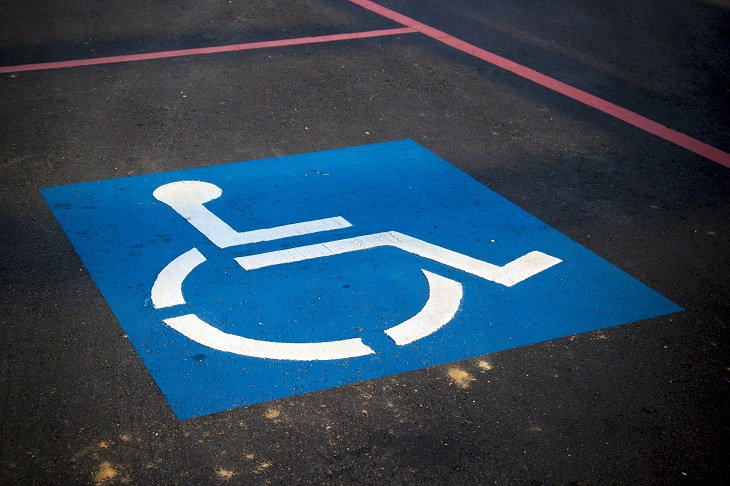 Using Your Placard
The great thing about disabled parking in Maryland is that there's no expiration date for permanent disabled parking permits (like there are in many other states). However, if your placard is lost or stolen, you do have some options. You should first report the lost/stolen placard or plate to local law enforcement. Get a police report from them and then fill out another application (like the one you completed originally). Include the police report and jurisdiction with your application and either mail it in (to the address listed above) or visit your local MVA office to get a substitute placard or plate.
When using your permit for disabled parking in Maryland, make sure that you remove hanging placards from the rearview mirror when your vehicle is in motion. Once you've stopped, you can display a placard on the rearview mirror (if your vehicle does not have an inside mirror, you can display the placard on top of the dashboard on the driver's side). It's important that you always have a copy of your medical certification with you just in case law enforcement requests it from you. Also, to discourage theft, it's recommended that you conceal your placard when you're not using it.
With your placard or license plate, you are permitted to park in designated disabled parking places. You're also exempt from paying parking meter fees in Maryland if the parking meters do not meet the requirements of the Americans with Disabilities Act. You can park for up to twice the maximum allowable time shown on the meter (as long as that's under four hours). However, you're still not allowed to park in zones where stopping, standing, or parking is prohibited to all vehicles or in spaces that are reserved for special types of vehicles. You're also not permitted to park where there are local ordinances banning parking during heavy traffic periods, or when parking is a traffic hazard. Some cities do have local ordinances that restrict handicap drivers from parking in areas with specified residential parking permits. Just make sure to check posted signs before you park.
Follow these steps to access disabled parking in Maryland, stick to the rules of the road, and then you'll be all set!