A Guide To Disabled Parking In Arkansas
As an individual with a disability, you might not be aware that there are tons of benefits to owning an Arkansas handicap parking permit. Handicap parking places give you closer and more convenient access to businesses, doctor's offices, and other locations, so you can conserve your energy and be able to get through your day a little easier. If you're wondering how to get a disabled parking permit in Arkansas, keep reading for all the info you'll need to know.
What conditions qualify for a permit?
Your first step in applying for a disabled parking permit in Arkansas is to determine if your medical condition will help you qualify for a placard. If you have a temporary disability, you can apply for a temporary placard that expires after three months (you can only apply for one more temporary placard after that). For permanent disabilities, you can apply for a permanent permit.
There are a number of different conditions that will qualify you, including:
The inability to walk 100 feet without stopping to rest
The inability to walk without the use of or assistance from a brace, cane, crutch, prosthetic device, wheelchair, another person, or other assistive device
If you are restricted by lung disease (to such an extent that your forced respiratory expiratory volume for one second – when measured by spirometry – is less than one liter, or the arterial oxygen tension is less than 60 mm/hg on room air at rest)
If you require the use of portable oxygen
A cardiac condition – to the extent that your functional limitations are classified in severity as Class III or Class IV, according to the standards set by the American Heart Association
A spinal cord injury
A genetic ambulatory disorder
An amputation
Spina bifida
Multiple sclerosis
Chronic heart disease
You also might suffer from a permanent medical condition that isn't specifically listed, but that still substantially impacts your mobility; these circumstances will also be considered by the Arkansas Department of Finance and Administration (DFA) when you submit your application. To help determine if your medical condition will qualify, you'll need to seek out a medical professional to fill out part of your application.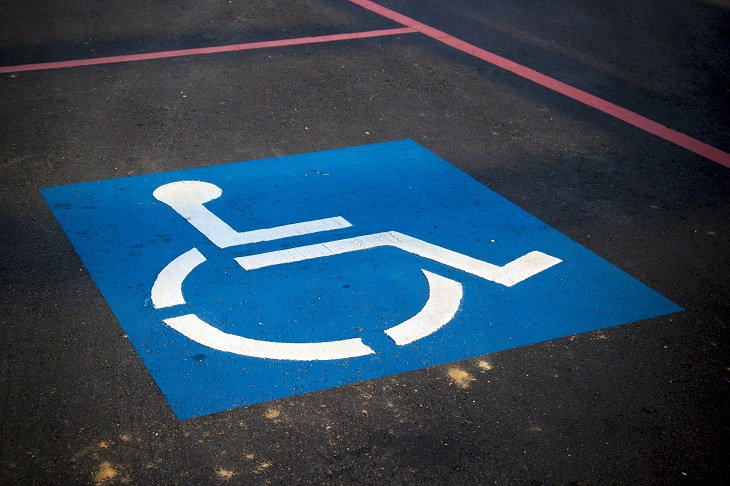 How do I fill out my application?
You can receive your Arkansas disabled parking permit application by finding it online or by visiting your local DFA Revenue Office. The application requires you to fill out your name and address. The rest of the application is completed by a licensed physician. The physician must note the type of medical condition you have, as well as check the box that states: "I hereby certify that the individual listed above is or has been a patient under my care and is disabled either permanently or temporarily as indicated below." They'll also need to include their address, and sign and date it. If you do not have a licensed physician you trust (or if it's difficult for you to make it in person to doctor's appointments), you should consider using the services of Dr. Handicap. They can connect you virtually to a licensed physician in Arkansas who can help you complete your application. Your form can then be submitted in person to the State Revenue Office nearest you. You'll also need to provide your social security number, driver license number, or state-issued identification card at that time to show proof of identity. The best part is there are no fees to be paid for applying for a parking placard.
Do you need to renew your placard?
If you received a temporary placard, it will expire three months from the last day of the month in which it was issued. If you have a permanent placard, it will expire four years from the last day of the month in which it was issued. You will not be required to get a re-certification of your disability in order to renew, but you are required to renew in person at a revenue office location.
What are the rules for using my placard?
If you're taking advantage of disabled parking in Arkansas, you will have complete access to spaces reserved for people with disabilities. However, you can only park there if you have your placard with you. Your placard should be displayed on the inside rearview mirror (or on the dashboard if your vehicle doesn't have a rearview mirror) whenever you exit your car. It's also super important to remember that you cannot loan your placard out to friends and family. This is considered a Class A misdemeanor. Other than getting to park in designated handicap parking places, you are required to follow the rest of the rules of the road per DFA regulations.
Disabled parking in Arkansas is taken very seriously. If an unauthorized vehicle parks in handicap spots without a placard, their vehicle could be impounded. Additionally, the owner of the vehicle could be subject to a fine of no less than $100 and no more than $500. If they offend again, the fine goes up to no less than $250 and no more than $1,000. If they commit this offense a second time, they could get their driver's license suspended for up to six months.
To get started taking advantage of the benefits of an Arkansas disabled parking permit, follow the steps listed above to apply for your own handicap placard today.