How to Get a Disabled Parking Permit Online
If you're one of the 56.7 million people in the United States currently living with a disability (about 19% of the country's population), you are more than aware of all the challenges that you face each and every day. Some tasks that may seem simple to other folks become huge obstacles for you. Even just traveling to and from work or running errands can feel like giant hurdles to overcome if you're not able to walk comfortably. But there is one way you can simplify the challenge of getting around. By getting a disabled parking permit online, you can ensure you'll always have a convenient handicap parking space to make your trip easier.
Having a disabled parking permit means that you are able to get out and about more, are less confined to your home, and can live your life fully. This type of parking permit means you can head to the store, see a movie, go out to eat – all without worrying whether you'll be able to find a close parking spot to your location. While having a handicap parking space can make walking easier on you, there's also an emotional benefit. You'll have peace of mind knowing that your outings will be much more manageable for you.
Plus, if you order your disabled parking permit online, you can skip the hassle of visiting a doctor's office in person (especially if you have to make the long journey to the office without a close parking spot) and can avoid wasting your time sitting in the waiting room. The process of getting a disabled parking permit online is actually a super simple one. Read on to see what steps you need to follow to qualify for a handicap parking space.
Step 1: Determine your disability and research your state's laws
The first step in getting a parking permit is to determine what your specific disability is. There are many conditions that can qualify as a disability, including:
Lung disease (like COPD or asthma)
Heart disease
A condition that limits your ability to walk
Loss of a limb (one or both legs, loss of both hands, or limited use of a limb)
Impaired mobility (requiring the use of a wheelchair, cane, brace, etc.)
Vision problems (like partial blindness or low vision)
A condition requiring the use of portable oxygen
An allergy or sensitivity to the sun (that can cause burns or blisters on the skin)
Once you've determined which disability you require assistance with, the next step is to research your state's specific laws regarding eligibility for a handicap parking permit. Because some regulations and requirements vary from state to state, you'll get the most accurate information by logging onto your state's DMV site. There you can research which standards will apply to your particular case.
Step 2: Have a doctor evaluate your medical records online
If it's a challenge to get transportation to and from your doctor's office, there's a simple solution. You can actually have a doctor evaluate your medical records and symptoms online – so you never have to leave the comfort of your house! If you hit up the Dr. Handicap site, you can gain access to licensed physicians who can look over your information immediately. This step also helps you avoid sitting in a doctor's office waiting room or paying the cost of transportation to the office.
Step 3: Video chat with a licensed doctor in your state
Once you've completed your medical evaluation, you'll get the opportunity to consult with a licensed doctor in your state. You'll communicate with the physician in a 100% online video chat, where they'll ask you questions concerning your disability and how getting a disabled parking permit online could improve your lifestyle. The best part is that you don't have to worry about sharing any of your personal or sensitive information – Dr. Handicap is completely HIPAA (Health Insurance Portability and Accountability Act) compliant.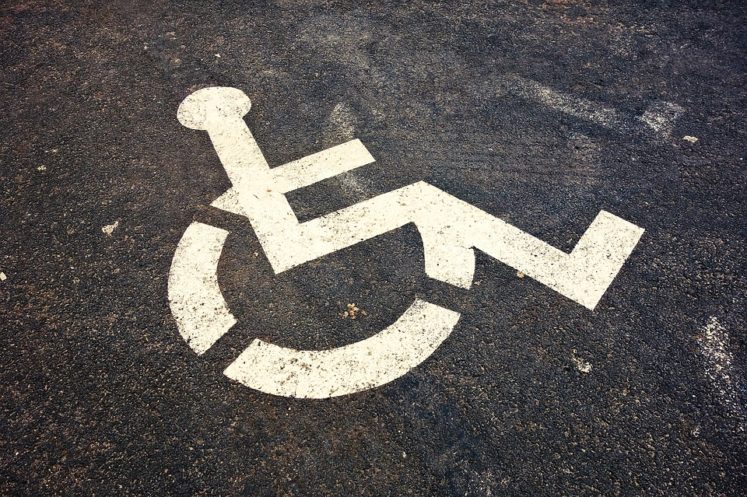 Step 4: Pay one flat rate for your consultation
When you go to a doctor's office, you're likely to have to pay a copayment or several fees just for your visit. When you get a disabled parking permit online, however, you only pay a one-time flat rate for your consultation. This straightforward pricing means you'll never be nickel and dimed to get a handicap parking permit or be faced with hidden fees. Dr. Handicap also offers a 100% money-back guarantee if the DMV doesn't end up awarding you with a handicap parking permit.
Step 5: Receive your completed DMV form by email
Once you've completed your online consultation with the doctor, you'll receive an electronic copy of your state's DMV form signed by the physician with all the pertinent information filled out. This step can also help if you get overwhelmed completing paperwork. The best part is that you can receive your form without ever having to step foot in the DMV office or have to wait in those horrible long lines.
Step 6: Wait for your approved disabled parking permit in the mail
After you've completed your DMV forms, you can just sit back and relax and wait for your handicap parking permit to arrive in the mail. Once approved, your official permit will be sent to you and will be ready to use on arrival.
Why wait to make your life easier? Just complete these easy steps to get your disabled parking permit online, and you'll be more capable of doing the things you want to do in your busy life.