How To Get a Disabled Parking Permit in Illinois
Illinois' disabled parking program is one of the most well-organized in the entire United States. It is thorough, meticulously run, and very fair. The Prairie State runs a tight ship when it comes to disabled parking and it provides some of the best infrastructure and services of any state in the union. Here is how to get a disabled parking permit in Illinois.
Different Types of Illinois Disabled Parking Permits
In Illinois, disabled parking placards are issued by the Illinois Office of the Secretary of State. Parking placards in the state come in a few different types: permanent placards, permanent license plates, temporary placards, and organization placards.
Permanent placards come in two varieties: meter-exempt and non-meter-exempt.
Meter-exempt permanent placards come in yellow and grey and are for permanently disabled Illinois license-holders who, due to their disability, are unable to access parking meters, are unable to reach 42 inches above the ground, are unable to handle coins due to hand disabilities, or cannot walk more than 20 feet at a time.
Non-meter-exempt permanent placards are blue and are for people who have a disability but do not meet the requirements for a meter-exempt placard. Non-meter-exempt placards are also for people who require a placard but do not themselves drive and will be requiring other people to drive them.
Temporary placards in Illinois (valid for up to six months) are red in color and are for any person with a non-permanent disability.
Organization placards come in many colors and are for organizations that transport disabled people.
Permanent license plates are available for permanently disabled people who own their own car; for parents and guardians or disabled children, and for immediate family members who live at the same address as a disabled person that they care for; and for any organization that transports disabled people.
Disabled veterans' plates are available for any person whose disability is at least 50% the result of injuries sustained during U.S. military service.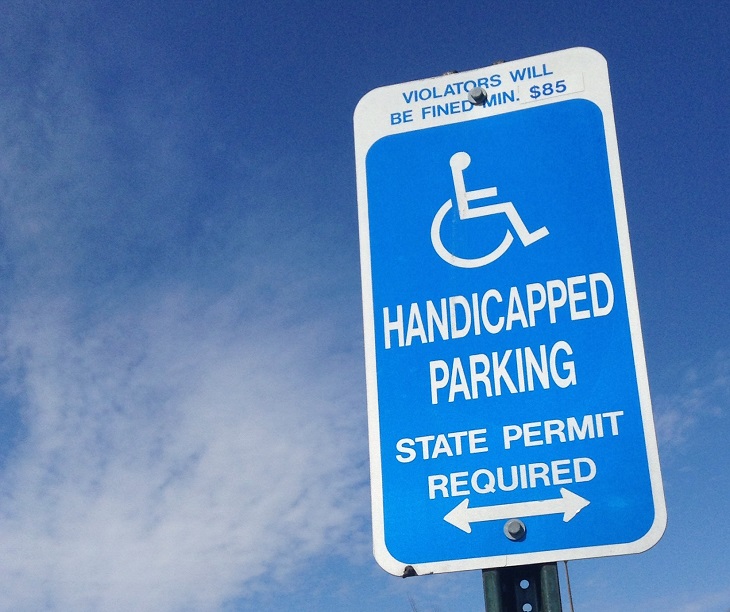 Qualifying Disabilities in Illinois
The list of disabilities that qualify a person for an Illinois disabled parking placard is similar to most other American states. If a person has heart disease, lung disease, arthritis, an inflammatory disease such as lupus or rheumatoid arthritis, is deaf or blind, is an amputee, is confined to wheelchair, requires the use of crutches or a cane to get around, has a neurological, orthopedic or oncological condition, or is not capable of walking for 200 feet without needing to stop for rest, they will almost always qualify.
Rights and Benefits
Holding an Illinois disabled parking placard of any type allows a person to park in any designated disabled parking space in the state. However, unlike in most other states, in Illinois, only meter-exempt placard holders can park for free and for any duration in on-street metered spaces.
Out-of-State Disabled Drivers
Illinois recognizes disabled placards from all other American states. But remember, if you are visiting from another state, you must abide by Illinois state disabled parking rules, which may be somewhat different to the rules in your home state.
Applying for an Illinois Disabled Placard or Plate
If a person has a qualifying disability they will need to consult with a medical professional. This can be either a doctor, physician's assistant, optometrist, or advanced nurse. Once the medical professional has deemed that the applicant is suitable for a disabled parking placard, they will fill in the appropriate sections of Form VSD 62 Persons with Disabilities Certification for Parking Placard/License Plates (which the patient should download and bring to the consultation, or send to the medical professional if a telemedicine consultation is being used).
Once the application form is completed by the medical professional and the applicant, it should be posted to:
Secretary of State
Disabilities License Plates/Placard Unit
501 S. 2nd St., Rm 541
Springfield, IL 62756
There is no fee for placards; however, plates will cost a $29 replacement fee, plus a $101 registration fee.
Permanent placards and plates must be applied for by post. Only temporary placards can be applied for in person at a local Illinois Secretary of State Office.
Renewing Placards and Plates
Every type of Illinois handicap parking placard and plate has an expiration date. To renew an Illinois placard or plate, a person must go through the exact same process as when they applied for the first time. Unlike in many other American states, a brand-new application form filled in by a consulting medical professional must be submitted every time a renewal is required. Temporary placards can be renewed when they expire after six months, and as with permanent placard renewals, a brand new application form filled in by a consulting medical professional will be necessary.