How to Get a Disabled Parking Permit in Florida in 2019
Florida is one of the most picturesque states in the U.S. Thanks to its long, thin shape and enviable geographical position separating the Gulf of Mexico from the Atlantic Ocean, it boasts many, many miles of great beaches and a massive variety of beach communities ranging from peaceful, relaxed settlements like Cumberland Island, to large, bustling cities such as Miami and Tampa.
Whether you are visiting a national park or sumptuous beach, catching a Jaguars game in Jacksonville, going on a shopping spree in Miami, or taking the kids to Disney World in Orlando… if you have a disability you will benefit massively from utilizing the Florida disabled parking program.
All of Florida's towns, cities, attractions, and areas of natural beauty are excellently served by disabled parking facilities. If you are a Florida resident with a disability but you have not yet applied for a disabled parking permit, you are missing out big-time.
Now is the time to apply for your Florida disabled placard. It is a simple and efficient process, designed to be optimally user-friendly. Here is how to get a disabled parking permit in Florida in 2019.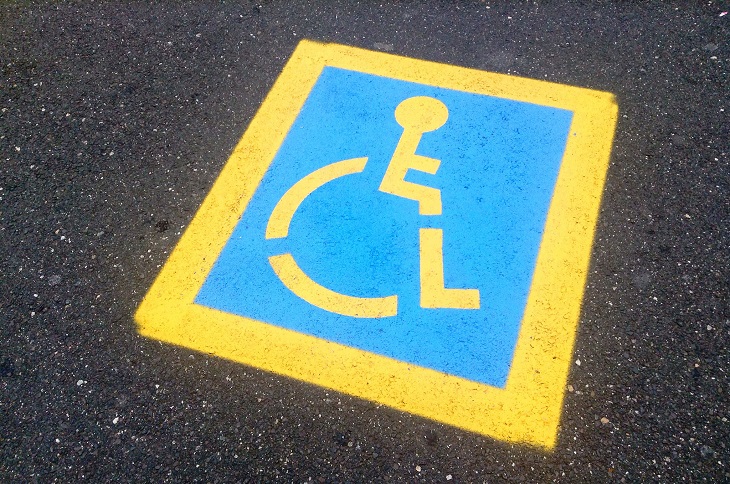 Florida Disabled Parking Permit-Holder Rights
A Florida disabled parking permit allows its holder to park in any designated "Disabled" parking space in the state. They can also park in any on-street, metered parking space for free for up to four hours, although in practice, many jurisdictions allow permit holders to park in metered spaces indefinitely.
A Florida disabled parking permit does not entitle its holder to park in any areas labeled "No Parking," in zones reserved from emergency vehicles and buses, or in striped areas adjacent to disabled parking spaces.
Types of Florida Disabled Parking Permit
Florida has four different types of disabled parking permit available:
Permanent Disabled placards.
Permanent Disabled number plates. (Both permanent plates and placards are available for people who are permanently disabled. These permits are valid for four years, after which they must be renewed.)
Temporary Disabled placards (valid for six months).
Disabled Veterans plates. (DV plates can be acquired by a military service veteran whose disability is at least 50% service-related.)
Florida Disabled Parking Permit Qualifying Disabilities
To get disabled parking permit in Florida, a person must have a disability that limits their ability to walk 200 feet without stopping to rest.
This inability to walk must be for one of the following reasons:
The applicant cannot walk without the use of or assistance from a brace, cane, crutch, prosthetic device, or other assistive device, or without assistance of another person.
The applicant needs to permanently use a wheelchair.
The applicant is restricted by lung disease to the extent that the person's forced respiratory expiratory volume for one second, when measured by spirometry, is less than one liter or the person's arterial oxygen is less than 60 mm/hg on room air at rest.
The applicant requires the use of a portable oxygen tank.
The applicant is restricted by a heart condition to the extent that their functional limitations are classified in severity as Class III or Class IV by the American Heart Association.
The applicant has a severe limitation in their ability to walk due to an arthritic, neurological, or orthopedic condition.
The applicant is legally blind.
How to Get a Disabled Parking Permit in Florida in 2019
The steps to getting a disabled parking permit in Florida are as follows:
Download an application form.
Book a consultation with a qualified medical professional. In Florida, this can be a physician, physician's assistant, nurse practitioner, osteopath, podiatrist, chiropractor, or optometrist. A consultation can be done using telemedicine or in-person.
The application form must be filled in by both the applicant and the consulting medical professional.
Once the application form is completed, it must be submitted in-person to a local tax collector's office along with a copy of the applicant's driver's license or ID and any necessary fee (permanent placards are free and temporary placards cost $15).
How to Renew a Disabled Parking Permit in Florida in 2019
To renew a Florida disabled parking permit of any kind, a new application form must be completed, along with a new medical professional's recommendation.
The new application form must be submitted to a tax collector's office. For renewal application, the form may be posted or submitted in person. Proof of identification and relevant fees must be included with the renewal application form.
Can an Out-of-State Disabled Parking Permit Be Used in Florida?
Disabled permits from all other U.S. states are valid in Florida, and afford their holders full disabled parking rights.
International disabled permits are not valid in Florida. International disabled drivers will need to apply for a temporary permit from the tax collector's office nearest to where they will be staying. These permits cost $15 and are valid for six months.