The Facts About Disabled Parking in Alaska
Alaska has a fair and efficient disabled parking program. The Last Frontier looks after its disabled drivers well, and it makes disabled parking easy and accessible for visiting handicapped drivers also. Just like in most American states, there is a smattering of unique details in Alaska's disabled parking program that are somewhat idiosyncratic and that every disabled driver in the state, whether they are a resident or just visiting for a vacation, should be aware of.
So, without further ado, here are the facts about disabled parking in Alaska.
Qualifying Disabilities in Alaska
The list of qualifying disabilities in Alaska's disabled parking program is lengthy but somewhat ambiguous. There is ample room for an examining medical professional to use their discretion when determining whether or not a person is eligible for a handicap parking permit in the state. If an examining medical professional deems a person to have impaired mobility, or a condition that can interfere with mobility, they are eligible for a permit. Besides this, and more specifically, if a person has a lung disease, requires the use of a portable oxygen tank, has a heart condition, is an amputee, requires the use of a wheelchair, crutches, cane, Zimmer frame, or other walking aid, has an arthritic, orthopedic or neurological condition, has a chronic inflammatory autoimmune condition such as rheumatoid arthritis or lupus, or cannot walk for 200 meters without needing to stop and rest, they are also eligible for disabled parking in Alaska.
Temporary Alaska disabled parking permits are assigned to people who have temporary disabilities or mobility issues. These conditions can include temporary injuries such as broken limbs, or being in a period of recuperation post-surgery, or being pregnant.
Types of Disabled Permits in Alaska
Alaska provides the option of a permanent placard, a permanent license plate, a temporary placard, and a disabled veterans license plate to its disabled drivers. Permanent placards and plates are valid for five years. Temporary placards are valid for six months. Placards expire on the final day of the expiration month stated on the placard.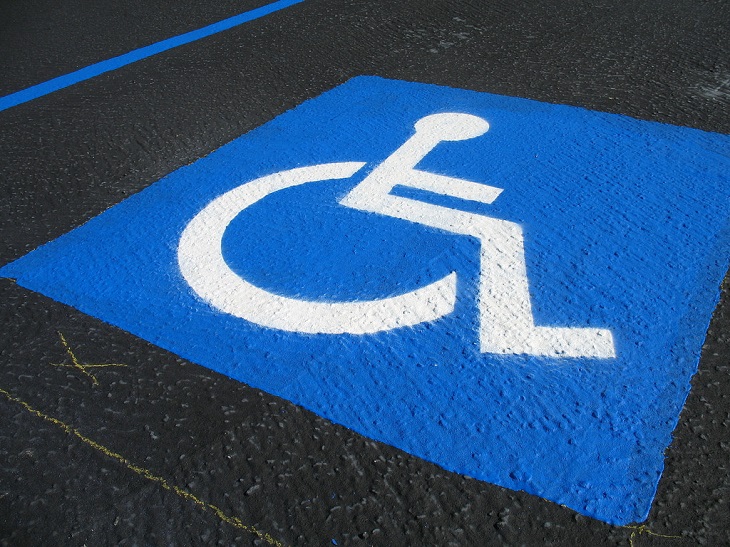 Alaska Disabled Permit-Holder Rights and Entitlements
Alaska disabled parking permits allows their owners to park in any designated disabled parking space in the state. A placard can be used on the owner's personal vehicle, or on any other vehicle that the placard owner is traveling in at any given time.
Alaska disabled parking placards are also recognized in most other American states, although if you are planning to travel and hoping to use your Alaska disabled parking permit in another state, it is best to contact the local authorities in your destination state to double-check that your permit will be recognized in their jurisdiction.
Disabled placards from all other American states are recognized in Alaska.
How to Apply for an Alaska Disabled Parking Permit
The first step is to download Form 861: Application for Disabled Parking Identification and take it to a medical professional. The medical professional can be a licensed physician, a physician's assistant, a chiropractor, a podiatrist, or a nurse practitioner. Once the medical professional has examined you and deemed that you need a disabled permit, they will fill in Part 2 of the application form.
After that you simply fill in the rest of the form and submit it, either by mail or in person, to the Alaska Division of Motor Vehicles office in Anchorage:
State of Alaska Division of Motor Vehicles
ATTN: Disability Permit
1300 W. Benson Blvd, Suite 200
Anchorage, AK 99503
If you are applying for a disabled veterans plate, you will need to include a VA disability certificate in your application pack.
If you are applying for license plates, you will need to make your application in person at the Alaska DMV office, unless you live in a very remote location, in which case you can submit your application by mail.
Alaska Disabled Parking Permit Fees and Payments
All disabled placards in Alaska are free. First-time license plates and disabled veterans plates are also free.
Alaska Disabled Permit Renewal and Replacement Procedures
Unlike in many other American states (which do not require a new doctor's letter for permit renewal), when you need to renew or replace an Alaska handicap permit you must send a completely new application form, which has been filled in anew by an examining medical professional. This procedure applies to renewal of temporary (after six months) and permanent (after five years) placards and plates.
So that's the gist of Alaska's firm but fair disabled parking program. It's simple, it works well, and it's easy to navigate… if you know that facts. And now you do!