Can I Use My Disabled Parking Permit On An Uber Or Lyft Ride?
The entire point of having a disabled parking permit is to allow you to get where you need to go. Sometimes this means using a rideshare service such as Uber or Lyft. In that case, is your disabled parking permit of any use? Do Uber have wheelchair-accessible vehicles? What about Lyft?
If you're a disabled parking permit holder, then there's what you need to know about using Uber, Lyft or other rideshare services.
Disabled Parking For Uber
Uber is one of the most popular rideshare services, and they endeavor to make their rides accessible for those with disabilities. Right now, Uber has pilot programs in a few cities such as Portland and Chicago where wheelchair-accessible vehicles are being used. The goal of these pilot programs is to make sure the drivers have the technology available to them for wheelchair-accessible vehicles. They're also looking at partnering with commercial providers in order to expand their services.
Uber also has a couple of pilot programs called uberASSIST and uberWAV available to their drivers. These programs were established to help inform established Uber drivers on how to assist those with disabilities into vehicles and how to accommodate for assistive devices such as wheelchairs, scooters, and walkers.
Recently, Uber also launched Uber Health, a program aimed at assisting those with disabilities in getting to and from medical appointments. This is different than a traditional Uber service in that it's specifically a platform for medical offices to order rides for their patients. One of its best features is that it can help breach a technological barrier some people may have to using apps or websites for rideshares, so make sure to ask your medical provider if they offer this service.
Disabled Parking For Lyft
When you order a Lyft through their app, you're allowed to order a ride in what they call "Access Mode." If this mode is available in your market, that means the vehicle can accommodate wheelchairs. If you don't live in a market where this option is available, Lyft sends you information about local services that may be able to assist you.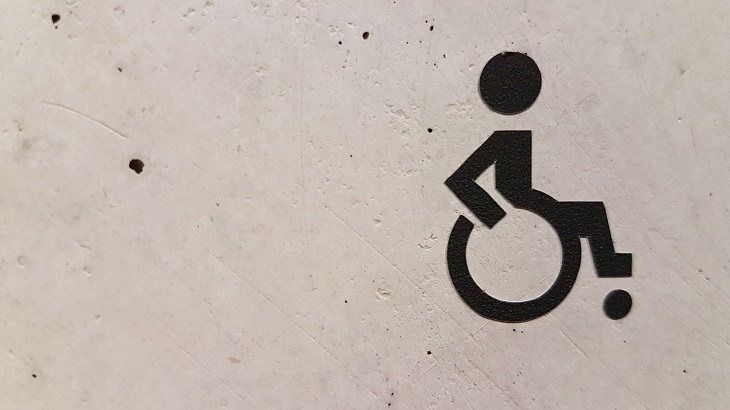 Do Uber Or Lyft Drivers Know How To Help?
Rideshares such as Uber and Lyft do make an effort to educate their drivers about how to assist a passenger with disabilities. They've been coached on how to effectively communicate with riders, how to store mobility devices, how to assist the hearing impaired and those with vision impairments, and even how to help people with service animals. It's important for any person with a disability who uses a service animal to know that in accordance with the Americans with Disabilities Act, as well as Uber and Lyft's company policies, they must make reasonable accommodations for you and your service animal. If you feel at any point a driver has failed to do this, you can lodge a complaint, and the driver risks being terminated from the platform.
Can I Use My Disabled Parking Permit On An Uber Or Lyft Ride?
Since you're not parking but merely getting a ride, most of the time your disability parking permit won't help in a rideshare you order through Uber or Lyft. When it can help you is in situations where you can be dropped off in a handicap accessible zone that is close to the entrance of your destination. That's why when you travel, it's not a bad idea to bring along your disabled parking permit – you simply don't know when it might come in handy!
Should You Use Uber Or Lyft?
When traveling with disabilities, Uber or Lyft may not be your best option. They've caught a lot of flak in the past few years for not providing services "friendly" to those with disabilities. Though there is some indication they're trying to change the culture in the companies surrounding services to the disabled, they still do not have enough vehicles to accommodate electric scooters or wheelchairs. This means that, depending on where you're trying to order a ride, there may not be anything Uber or Lyft can do to help you get where you're going.
Good, old-fashioned taxi services may be your best option, since they are required by the ADA to provide accessible vehicles – something Uber and Lyft are not required to do under the law because they're seen as "tech" companies.
When it comes to using rideshares such as Uber and Lyft, your mileage may vary. But rest assured that strides are being made to make these services accessible to everyone.
Featured image by Thought Catalog on Unsplash