Disabled Parking Laws In 2020: All You Need To Know
Have you made a New Year's resolution to get a disabled parking permit? If you have a qualifying medical condition, you could be eligible for a handicap placard that could give you access to more convenient parking places in your state. In order to make sure you're abiding by all the disabled parking laws in 2020, read on for more information about handicap parking in the new year.
Are there any new handicap parking laws in 2020?
Because handicap parking laws are made on the state level, you'll need to check with your individual state to see if there are any new parking laws you need to know about. Some counties or cities might even have laws that are specific to that area. Your best bet is to check your local or state government's website to stay up to date with any changes to these laws. If you can't find the information you're looking for online, you can always call the government agency (like the Department of Motor Vehicles) or local parking enforcement, or stop by in person to get your questions answered. It's always best to do this before you start using your handicap placard so you know you're following all of the rules of the road.
You can also head to all your favorite spots around town to ask if anything will be changing with their parking situations. This can be a good way to find out about any new disabled parking spots planned for parking lots in your area or in places where you frequently drive. The new year can be a great time to remind the establishments you visit often how important having accessible handicap parking is for individuals with disabilities. Some businesses might even be encouraged to add more handicap parking places in order to better serve the community.
What medical conditions qualify you in 2020?
The medical conditions that qualify you to be legally allowed a disabled parking permit in 2020 also vary from state to state. These can include conditions like:
Having lost the use of one or more of your limbs as a consequence of paralysis, amputation, or other permanent disability;
Being severely and permanently disabled and unable to walk without the use of or assistance from a brace, cane, crutch, prosthetic device, wheelchair, another person, or other assistive device;
Suffering from lung disease to such an extent that your forced (respiratory) expiratory volume for one second, when measured by spirometry, is less than one liter, or the arterial oxygen tension is less than sixty mm/hg on room air at rest – can include illnesses such as asthma, lung cancer, COPD, etc.;
Requiring the use of portable oxygen;
Having a cardiac condition to the extent that your functional limitations are classified in severity as Class III or Class IV (according to standards set by the American Heart Association);
Being severely and permanently limited in the ability to walk because of an arthritic, neurological, or orthopedic condition (or not being able to walk 200 feet without stopping to rest).
In order to verify that you have a condition that makes mobility difficult for you, you'll need to be evaluated by a physician in your state.
How can I sign up for a handicap parking permit 2020?
Whether you want to obtain a new disabled parking permit or you want to renew the one you have in 2020, you'll need to go through the application process specific to your state. Directions on how to complete this process can be found on your state government's website. In order for your application to be complete, you'll need to get your medical condition verified by a doctor. They'll assess your physical condition and medical history and then determine if you'd find a benefit from using a handicap placard and whether you would need a temporary or permanent permit. They'll then need to complete the medical certification part of the application and sign it in order for it to be valid. If you don't have a doctor who can help with this, you can head to Dr. Handicap, and we'll connect you virtually with a doctor in your state. You can do this from the comfort of your home, so it's super easy and convenient to apply online. After you finish your application, you can submit it to your state's governing board. Some states allow you to submit online, while others require you to drop off your application in person or mail it in.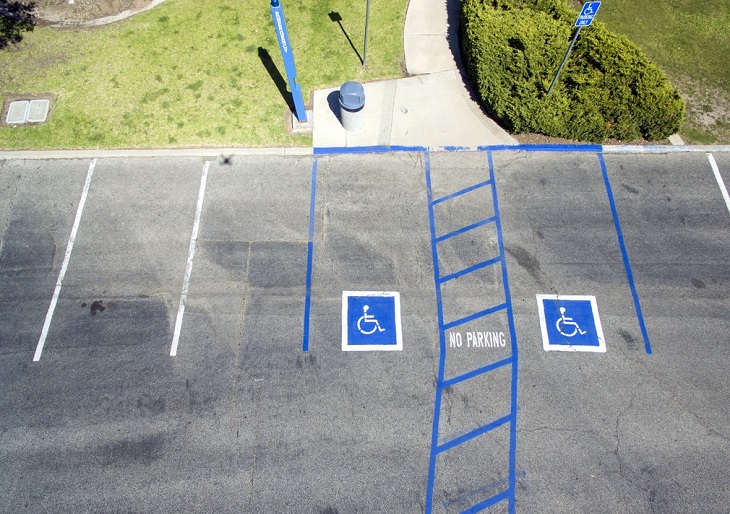 What are some important 2020 disabled parking permit laws?
There are several laws that you need to make sure you're following once you have your parking permit in hand. The most important rule is that you are never allowed to lend your placard to anyone else (even friends and family). The placard is only for your personal use, so as long as you're the driver or passenger in the vehicle, you are permitted to park in handicap parking places. Most states have very strict punishments for abusing this privilege; if you're caught lending out your placard, you could get your permit revoked and face a hefty fine, community service, or even jail time.
Another important regulation to follow is to hang your placard from your rearview mirror whenever you're parked. Your placard must be clearly displayed so that parking or law enforcement officers can immediately tell whether you're authorized to park in a handicap parking place. Once your vehicle is in motion, you must remove the placard from the rearview mirror. In some states, there are additional parking benefits, such as free parking at metered street parking. Do a little research about the regulations in your own state and town to find out which rules apply to you once you have your handicap placard.
Disabled parking laws are being amended all the time. So with the new year in sight, make sure to find out if any laws have changed in your state and follow all the necessary regulations in order to use your handicap placard appropriately at all times. That way you'll have all the benefits of a handicap placard to take advantage of in the new year!
Featured image by Annie Spratt on Unsplash