What Counts As a Medical Disability for a Disabled Parking Permit in Florida?
Thinking about applying for a disabled parking permit in Florida? There are many medical conditions that are considered disabilities, which can qualify you for a handicap placard. Read on to find out some examples of qualifying disability types.
Difficulty walking or being mobile
People can have trouble being mobile for a lot of different reasons, including having arthritis, a neurological illness, or an orthopedic condition. Many people with these diagnoses require help from a brace, cane, crutch, or other assistive device to get around. Typically, people who need these devices are deemed disabled. Additionally, if you have a prosthetic device, use a wheelchair, or need assistance from another person to walk, you're also usually considered disabled. However, there is a caveat: if the assistive device you use significantly restores your ability to walk so that you can walk without any limitation, you would not be considered eligible for a disabled parking permit in Florida. Your physician would need to show that being mobile is a serious challenge for you in order to qualify for a handicap parking permit.
Lung or pulmonary disorders
If you suffer from a medical condition that affects your lungs or pulmonary system, you'll likely qualify for a handicap parking permit. Some common disorders involving the lungs include asthma, COPD, lung cancer, cystic fibrosis, etc. This disability can be measured in a very specific way with spirometry (which measures lung function and the amount and/or speed of air that can be inhaled and exhaled). A person is considered disabled if their forced (respiratory) expiratory volume at one second is less than one liter. It also means that the person's arterial oxygen is less than 60 mm/hg on room air at rest. Your doctor can help determine if your lung condition qualifies as a disability. Many of these conditions also require people to use portable oxygen, which can also qualify you for a disabled parking permit in Florida.
Cardiac conditions
These conditions cover a multitude of diagnoses, including heart disease, high blood pressure, stroke, and many others. The American Heart Association has separated cardiac conditions into four classifications. Class I or II typically means that you only have mild symptoms and can still participate in most physical activities. Class III or IV means that you experience significant limitations and have difficulty taking part in any physical activity at all. Usually, people in Class III or IV feel a lot of discomfort and fatigue just by completing normal daily activities. To qualify for a disabled parking permit in Florida, your doctor will need to place you in either Class III or IV.
Vision problems
If you have limited vision or are considered legally blind, the state of Florida says you qualify for a handicap parking permit. Even if you're unable to drive because of your vision issues, you can still benefit from having a handicap placard so that whoever is driving can park in a convenient place for you.
There are other conditions that can help you qualify for a disabled parking permit in Florida. If you want to ask if your specific condition will qualify, you can call your local motor vehicle service center or the Department of Highway Safety and Motor Vehicles (DHSMV) Customer Service Call Center at (850) 617-2000 to get your questions answered.
If you've determined that your condition will help you qualify for a permit, your next step is to fill out an Application for Disabled Person Parking Permit (or form HSMV 83039). You can get the form from the DHSMV office or online. All permits, placards, and license plates are issued through this office. You'll need to figure out if you need a temporary or permanent placard – permanent ones are valid for up to four years, while the temporary placard is only valid for six months. Permanent placards are free of charge, but a temporary one will run you about $15.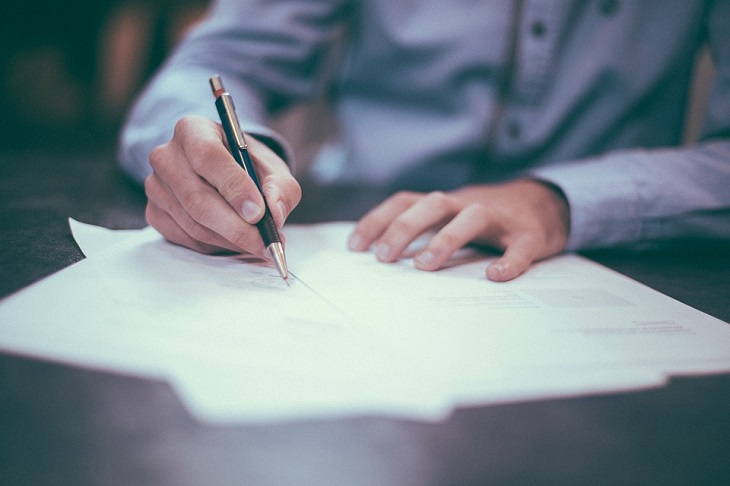 To complete the application form you'll need to get a medical professional to help you. In Florida, the following people can help you fill out your form:
A licensed physician, osteopathic medicine doctor, or chiropractic doctor
A podiatric physician
An optometrist
An advanced registered nurse practitioner
A physician assistant
A similarly licensed physician from another state, if the application is accompanied by documentation of the physician's licensure in the other state and the out-of-state physician can give a statement verifying his or her knowledge of Florida's eligibility guidelines
If you don't have a trusted medical professional, you can always head to Dr. Handicap. The site can help connect you to a licensed doctor in Florida who can assist in completing and signing the application. Then all you have to do is submit the finished form and wait for your handicap parking permit to arrive in the mail.
As soon as you have your permit, make sure that you're always following Florida regulations. That means no lending out your placard to friends and family – the permit is only valid if you're the one using it. Anyone who uses your permit without you being in the vehicle could be charged with a second-degree misdemeanor – that means a $1,000 fine or up to six months in jail! So, follow all of Florida's rules of the road, and you'll be all set to use your handicap parking permit throughout the Sunshine State!