Can I Use A Disabled Parking Spot In An Emergency?
If you find yourself in an emergency situation, and the only place you can park is in a disabled parking space, what do you do? If you park there, you risk getting a ticket. But it's an emergency – does that make a difference? If you take a chance and park in a handicap parking space without a permit, then here's what you need to know.
Handicap Parking Etiquette
First and foremost, if you don't have a disabled parking permit, then you're almost guaranteed to get a ticket for parking in a designated handicap parking space – no matter the circumstances. It's required by law to display a disabled parking placard when you park. Even for those who are legally entitled to use the space, if you don't display the permit, you're in violation of the law.
It's also important to realize that not all accessible parking spaces are equal. Some spaces are accessible for vans for those who use mobility devices, providing aisles on one of the spaces that allow them to maneuver out of the vehicle. Those spaces should be reserved for only those who need the aisle access.
You should also never park in the access aisle between disabled parking spaces, even in an emergency. This space is denoted by a blue crosshatch striping. If you block this space, then you're blocking someone's access to legally entitled parking.
Even in the event of an emergency, or if you're having your own physical challenges and need to use crutches or another assistive device, it's not legal for you to use disabled parking spaces without a permit.
Can You Plead Your Case?
If you parked in a handicap parking space without a permit, it's likely you now have a hefty ticket to pay. So what can you do?
If you received a ticket and you want to plead your case, then the first thing to do is not to pay for the ticket. When you pay, you admit to the parking infraction and really won't have any chance of getting out of it.
It's important to appeal your ticket within 14 days of receiving it. In most places, tickets will often double in price if you don't appeal to the court in the first 14 days. You technically have 28 days to make an appeal in most places, but you'll want to check in the town or city where you got the ticket to see what their rules stipulate.
When you show up to court in order to appeal your ticket, then you'll need to bring evidence that it was, in fact, a medical emergency that put you in the position to park there in the first place. You'll need admission paperwork from the clinic or hospital where you were treated or a statement from a medical professional indicating the nature of your emergency.
You're not guaranteed a dismissal, but this defense will at least be seriously considered as they explore your individual circumstances further.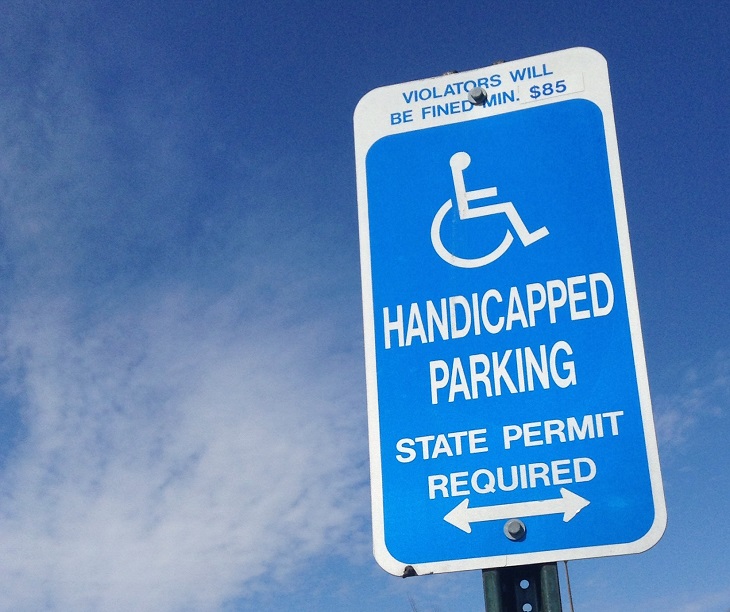 Do You Need a Disabled Parking Permit?
In general, you can never park in a handicap parking space without the proper placard or license plate. No matter the reason, it's simply not legal. Even if you have a broken leg, try not to park there unless there are just no other options.
If you do become injured and require a handicap parking permit, then there are ways to legally obtain one that allows you to park in these designated spaces. Talk to your doctor about eligibility if you're experiencing difficulties due to a condition that impacts your mobility. You may also apply for a permit if you're recovering from a surgery, such as back surgery, or if you're pregnant.
To get a permit, you'll need to get an application from your local Department of Motor Vehicles, either in person or online. The form will need to be completed by both you and a medical professional to certify your disability. Then you submit the application in person or by mail. Temporary handicap parking placards are normally available for up to six months. Some states charge a fee, while others grant them free of charge.
If you are legally granted a disabled parking placard, you can use it if you drive the car or if you're a passenger in the car. Just make sure you don't allow anyone else to use it when you're not with them, because that can result in the loss of your permit as well as penalties or other fines – and it'll put you right back to square one!
You can't always control the circumstances you're involved in, but it's important to understand that it's never going to be legal to park in a handicap parking spot without proper documentation. If you're OK with getting a ticket and you feel you have no choice, then you may have to make that decision. But if you can avoid it, it's always best for everyone to do so.