4 Things Family Members Of Disabled Drivers Should Know
Disabled adults face many challenges, but driving doesn't have to be one of them. In fact, there are some ways that driving can be made much easier for those with disabilities. As a family member of someone who has a disability, you should understand what laws apply to disabled drivers, the education driving with disability requires, and how some vehicles may need to be modified. Here are all the things family members of disabled drivers should know.
1. Laws Surrounding Driving With Disability
Many federal laws oversee the ability of a person with a disability to drive on the roads. When discussing these driving laws, disabled usually refers to someone who has lost the use of one or more limbs and has to have adjustments made to a car in order to operate it.
Under the Americans with Disabilities Act, disabled Americans are protected from being discriminated against both in the workplace and while accessing public services. A state's Department of Motor Vehicles cannot deny a driver's license to someone based solely on their disability status under the law. The law also states that disabled parking spaces must be available in parking lots, and must be wide enough to accommodate accessible vehicles with a ramp for wheelchairs.
Every state has its own laws surrounding disabled drivers, but some things are common across all states, such as the requirement of disabled drivers to disclose their disability to the DMV. The state may issue a restricted driver's license based on the disability status of the person (mobility issues, limited vision, a hearing disability, etc.). The ways vehicles must be modified for disabilities differ from state to state, so if you have questions, make sure to contact your local DMV for more information.
2. Driver's Education For Those With Disabilities
The driver's education required for those with disabilities to obtain a driver's license are much the same as any other driver's education course, except that they may need specialized training based on any specific controls installed on a vehicle to help accommodate for their disability.
As with any other driver, a disabled driver must be at least 16, though driver's education classes can begin at age 15. A theory test and a practical road test must be passed in order to obtain a driver's license.
3. Requirements For Vehicles
Vehicle modifications for disabled drivers are based on the particular disability in question. Vehicles should include a feature that enables easy shifting and automatic transmission. It's also a requirement for a disabled driver's vehicle to have power steering, windows, seats, and locks.
Some disabled drivers may need a lift to access their vehicle and hand grips to transfer. If a driver is unable to use accelerator and brake pedals, their vehicles must have hand controls. However, you'll want to check with your state to see what modifications are legal, since spinner knobs that make turning a wheel easier for a person with a disability have been outlawed in some states.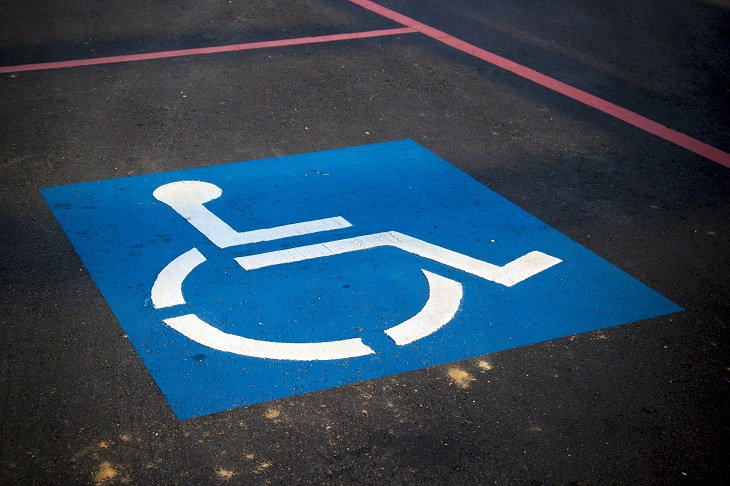 4. Disabled Parking Permits
Another important item that may be required for a disabled driver is a disabled parking permit. The DMVs in each state issue these specialized parking permits, which may be given on a permanent or short-term basis. You need to check with your state to find out what the qualifying conditions are for a disabled parking permit; what forms must be filled out by the disabled driver and their doctor to secure one; and the cost, if any, of getting one.
A disabled parking permit will allow the driver to park in handicap-accessible spaces in parking garages and parking lots. These spaces are closer to the main entrance and have extra room for putting down a ramp for wheelchair access. Disabled parking may also allow a disabled driver to park on a street without paying the meter or to ignore parking with time limits. However, these privileges differ from state to state and even city to city, so you'll need to make sure you and your disabled family member familiarize yourselves with state and local laws surrounding disabled parking.
Featured image by Josh Appel on Unsplash