How To Tell the Difference Between Handicap Parking Spaces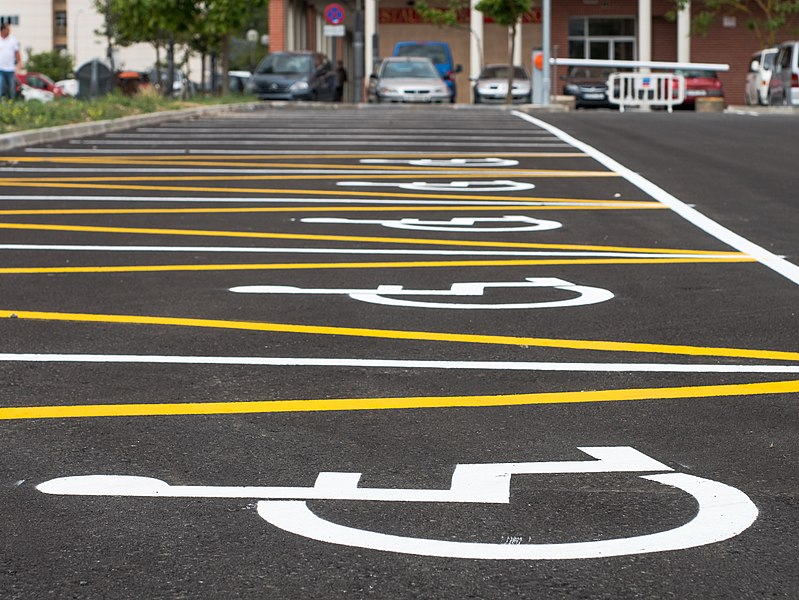 Handicap parking is something that most of us don't put a lot of thought into; it's something we pass by most days when we're out and about in our car, part of the parking lot scenery. Sometimes we might wish we could park there, but all in all, for many drivers, handicap parking spaces feature very little in our day-to-day lives. This is in stark contrast to disabled people, who rely on these spaces to function normally in society. To the handicapped, these parking spaces are a lifeline, helping them to travel about their city and go about their lives as best they can.
There are many types of disability, and not all of them are obvious. When we think of handicap parking, we imagine someone struggling their way out of their car on crutches with their leg in plaster, or being removed and placed in a wheelchair. Disabilities are not always as plain to see as this, though; there is a wide range of mental disabilities as well as physical ones, and people with mental disabilities are still entitled to a disabled parking space. You shouldn't judge a person just on the way they appear; if they have a permit, it's usually safe to assume they're entirely legitimate.
To add to the confusion on the other side of the line, there is not only one type of handicap parking space. If you've recently picked up a disabled parking permit, or have a close friend or family member who's getting into the swing of handicap parking, it can be a good idea to remind yourself of the different types of handicap parking spaces so you don't get into trouble. It's worth remembering that anyone with a valid handicap parking tag can park in any handicap space, but it's generally considered very bad manners to utilize a van space if you're in a car, and some people won't be quick to forgive you. The best way to circumvent this potential stress is to memorize the types of handicap parking spaces; fortunately, there's not too many to remember, so it shouldn't be too hard to get them all down!
The most common type of disabled parking space is an accessible car parking space. These are the garden variety spots you see in most parking lots. While they're designed for cars, these standard handicap parking spaces can accommodate SUVs, sedans, and vans without any ramps or lifts. They'll be marked by the universal disability sign, the blue-background wheelchair marker. They'll also be constructed on flat ground to enable steady wheelchair and crutch paths; it wouldn't be so great if the wheelchair started slipping away from you the moment you took it out of the car! Another distinctive feature is the sixty-inch aisle next to the parking space, allowing for additional room to maneuver. These are often highlighted in white or yellow and are generally marked distinctively, separate from the main space.
If you are a fellow driver with no disability, it can be important to note that it is an offence to park within these aisles, even though it might not seem like you're obstructing the actual parking space. Many disabled drivers and passengers rely on these aisles to successfully leave their vehicle, so it's important that they have full access to them. According to local law enforcement, these types of infringements constitute a large part of the parking space violations committed across the country.
The next type of disabled parking space is reserved for vans with one-sided entries. A wheelchair-accessible van requires much more room to maneuver, and fortunately, that's exactly what these spaces allow for. These vehicles usually include a ramp and a large side door, which allows for the successful deposition of passengers. You'll be able to tell these spaces by the white-striped aisle on the passenger side of the space. They are also 96 inches wide, which means they're easily visible as larger than regular spaces, by quite some margin. The signs for these spaces will also display the qualifier "van accessible" and feature a higher vertical clearance than normal spaces to accommodate van height.
The final space is designed for vans with two-sided doors, which are probably the least common handicap vehicles used for transport. This type of van can accommodate many more passengers than a single-sided entry van, and thus requires more room and its own separate space to function properly. These vans have their own designated spaces, which have the same specifications as the one-sided van spaces, but come equipped with an extra aisle on the driver's side, to facilitate safe passenger entry and exit through both doors.
Ultimately, it's all quite straightforward. Most likely, you will be driving a car, so there's no real need to worry about van types and specifications; just keep an eye out for the "van accessible" sign next to the space. If it's not there, you're free to park!