Interstate Travel And Disabled Parking Permits: All You Need To Know
If you already possess a disabled parking permit, hopefully you're finding it very handy. It can be used in all public parking lots, allowing you to park in designated disabled spots, whether you are the driver or a passenger. Some states go further in permitting disabled parking permit holders to use parking meters for free or for a longer period than abled drivers. This is all very good and straightforward in your own town and area, with which you're very familiar. But maybe you're considering driving to another state, or perhaps you're planning a holiday which will see you driving across several different states. In that case, what are the legalities relating to interstate traveling with disabled parking permits? Do you need a different placard or plates for each state? Let's answer these questions here.
The law is on your side in this situation. The Americans with Disabilities Act (ADA), which was passed in 1990, states that "commercial facilities and public accommodation must be accessible to all." This law applies to the whole of the U.S. and requires that public parking lots provide designated spots for people who carry disabled parking permits. Such parking spaces are also required to be bigger than normal spaces and they should be clearly marked with what's generally called the Universal Symbol of Access – also known as the Wheelchair Symbol. This symbol is a blue square overlaid with a white image of a person in a wheelchair and is recognizable the world over. Most states also provide on-street parking spaces for drivers displaying a disabled parking placard. These will either also be identified by the Universal Symbol or by a painted curb.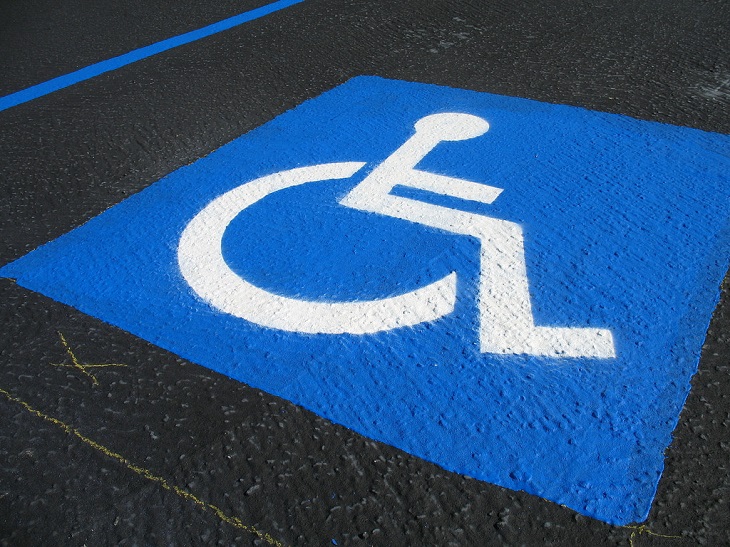 To put your mind at rest, the general rule is that almost all U.S. states will recognize and accept your disabled parking placard or special license plates. Having said that, it's worth remembering that each state does have its own set of rules and regulations when it comes to using your disabled parking permit. The FIA (Federation Internationale de I'Automobile) Guide suggests that wherever you travel, you should always check the parking signs and be sure that your disabled parking permit will be acceptable everywhere you intend to go. You can research all this on the DMV website.
It's a good idea to familiarize yourself with all parking regulations pertaining to the state or states you intend visiting, before you travel. They'll be similar to those in your home state, but will likely have some variation. Once you're happy that your disabled parking badge will be valid where you're going, you can take advantage of all parking concessions in that state. Some states – California being one of them – require that disabled visitors apply for a travel placard from the Department of Motor Vehicles (DMV). This allows you to park for free at parking meters and is valid for 90 days.
The DMV website contains information pertaining to everything you need to know about driving and parking, for every state. So just go to the relevant page on the site and you'll find all the details you require. As we noted already, most states will recognize your disabled parking placard, but you can also check on the DMV website whether yours is indeed valid in the state or states you wish to visit. If it isn't, the site will tell you what you need to do in order to avail of accessible parking. Forewarned is forearmed!
A couple of further things to remember: firstly, if your disabled parking permit is in the form of a placard, it must be clearly visible through the front windshield of your car once parked. If the parking attendant can't see your placard, you will most likely receive a fine. Another thing to remember is that disabled parking permits can only be used if the disabled person is either the driver or a passenger in the car. In other words, your permit can't be used at all in your absence. This would be breaking the law.
Hopefully, this has given you a good idea of what you should do in order to prepare for inter-state travel with your disabled parking permit. It's not too scary – just worth checking out a few things before you hit the road. If you have yet to apply for a permit, and would like to find out if you would qualify for one, then contact us online for a relaxed evaluation with one of our in-house specialists. This assessment can be done face-to-face or from the comfort of your own home via voice or video call. If you qualify, we can help you apply for your disabled parking badge from the DMV, and you'll be good to go!